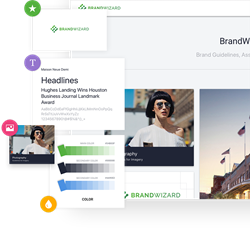 The right technology can reduce your Brand Team's administrative load. It allows them to dedicate more time to higher value-add work, and to deliver greater brand value.
WALNUT CREEK, Calif. (PRWEB) April 12, 2018
BrandWizard, the global leader in digital brand management, announces a release that reduces the time Brand Teams at large multinational companies spend on administrative work, enabling them to be more productive. AEM Assets integration enables more seamless integration between Brand and Marketing organizations. The AI-powered chatbot frees-up many hours spent answering basic brand and brand management questions. Finally, multilingual search better addresses the brand management needs of businesses working across cultures.
Integration with AEM Assets
Adobe Experience Manager is the most popular digital marketing product suite used by multinationals around the world. BrandWizard now integrates seamlessly with AEM Assets (it's digital asset management system). As a result, the Brand Team is no longer in a silo separate from the rest of the marketing team, instead, they are an active, integrated part of the overall marketing team. Moreover, all BrandCenter functionalities are now accessible on AEM Assets, so the Brand Team has access to its specialized brand management functionality in addition to the standard AEM Assets marketing functionality.
AI-powered chatbot
Brand Teams within large organizations can spend as much as 30% of their time responding to fairly basic questions from hundreds or thousands of marketing employees and partners around the world. BrandWizard's AI-powered chatbot can be trained to answer questions about the brand management system, and can point people to relevant parts of the brand guidelines. In helping users find the answers they need quickly, BrandWizard's chatbot frees up the Brand Team so they can focus on other, more impactful work.
Multilingual search
Today's companies extend across geographies and cultures. That often means communicating in different languages. BrandWizard already supports multilingual content. This latest release incorporates powerful search capabilities in those different languages, as well. Moreover, the search functionality extends across brand guidelines, assets, metadata, and collaborative projects.
Other key features released:

Reports and analytics on group projects hosted on our Collaboration platform
Ability to publish sections of the guidelines publically
Ability to print a single guideline, section of the guidelines, or all guidelines at once
Insight into the brands and sub-brands included within brand assets, along with alerts to brand violations
"BrandWizard's clients include many of the largest multinationals," said BrandWizard CEO Vineet Singh. "These firms have large teams of employees working across borders, and collaborating with internal and external partners to meet the needs of customers around the world. This can create confusion, makes assets hard to find, and often has the Brand Team fielding simple questions. The right technology can reduce their administrative load and allow them to dedicate more time to higher value-add work. That was our goal as we designed and developed our most recent product enhancements. We believe robust brand and marketing teams will find these enhancements intuitive, powerful, and invaluable. We're excited to share the updated brand management platform with them."
About BrandWizard
BrandWizard is the industry leader in digital brand management. Our products have helped several Fortune 500 companies deliver consistent omnichannel brand experiences. We are featured as a niche player in Gartner's Magic Quadrant for Marketing Resource Management (MRM), and our team of Stanford and MIT technologists is based in Silicon Valley.