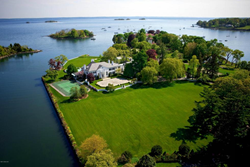 Where Real Estate is Never Boring
POMPANO BEACH, Fla. (PRWEB) April 13, 2018
Top 10 Real Estate News
"Archie Bunker's Malibu House"
A lot different than Archie Bunker's TV home in Queens, Carol O'Connor's longtime Malibu home is for sale at a pocket-listing price of about $20 million. The O'Connor family owned the home for over 30 years until it sold two years ago for $9.3 million. The new owners did a complete restoration for the beach-area home with four bedrooms, vibrant courtyard with pool, Tesla charging station and solar energy systems, but no Meathead, Edith or Gloria.
"New Florida Beach Laws for the Rich"
Based on a new law, ritzy Florida luxury condos, resorts and mansions may soon be able to keep the riffraff off their sand. For many years, all of Florida's beaches were open to the public, even the Palm Beach mansions that sell for $50 million and more. Beginning July 1, Florida beach lovers may not be able to get their sun tan on their favorite beaches. The beach owners will need to get a judge's order and can only restrict access to dry sand that ocean tides do not reach. About 60 percent of Florida beaches are privately owned.
"Gulden Mustard House For Sale"
A mustard-yellow home for sale in Cold Harbor, New York was once owned by the Gulden Mustard family. The 18-room home on two acres with nine bedrooms, five fireplaces, pool and pool house with harbor views was built in the mid 1800s. According to Newsday, the Gulden family owned the home in the 1950s. The asking price is $2.499 million.
"Robert E. Lee's Childhood Rental"
An Alexandria, Virginia home where Confederate General Robert E. Lee lived as a child and George Washington slept overnight is for sale at $8.5 million. The six-bedroom, brick home was built in 1795 and was home to the Lee family for about 80 years beginning in 1812 when his destitute father began renting the home. Robert lived there from age 5 until he entered West Point in 1825. The 8,145-square-foot home was also the site of the Stonewall Jackson Museum from 1967 to 2000 when it was sold to a private owner who did a full restoration of the home.
"Donald Trump's First Mansion Returns"
Donald Trump was only 35 when he and Ivana purchased his starter mansion – a 5.8-acre home on a peninsula in Greenwich, Connecticut for $4 million. Ivana immediately trumped up the mansion with lots of gold leaf, elegant chandeliers and crown moldings. When they divorced in 1991, Ivana won the mansion in the property settlement and sold the home in 1998 for $15 million. The new owners have toned it down a lot and added a tennis court, indoor lap pool, sauna and a 4,000-square-foot addition with guest suites. It's back on the market at $45 million, the same price when it was on the market in 2016 and reduced from $50 million when it was listed in 2010.
"TV's Maverick 400-Acre Ranch"
James Garner was a television and movie star for over 40 years starring in 'Maverick,' 'The Great Escape' and 'The Rockford Files.' His former 400-acre ranch in Los Olivos is for sale at $16.5 million. Garner had the 8,000-square-foot home built in the 1990s with features including a shooting range, 25-acre vineyard and separate homes for the vineyard and ranch managers.
"Dusty Springfield's London Art Deco House"
One of the 1960's and '70's most popular British singers was Dusty Springfield. Her former London Art-Deco style home with indoor pool, roof terrace and party room is for sale asking almost $20 million. Dusty could sing it all crossing pop, blues and jazz with hits such as 'Son of a Preacher Man,' 'The Look of Love' and 'I Only Want to Be with You.' She died in 1999.
"Margaritaville Smash Hit in Daytona Beach"
Jimmy Buffett and Minto Communities have teamed up to build a Daytona Beach resort Margaritaville. Located a few miles from the ocean near I-95, Margaritaville had more than 200 parrotheads camped out overnight when sales launched in November. The 55-and-older community features single family homes, 1,500 to 2,500 square feet priced from the low $200s to mid $300s. Amenities include a Latitude Bar & Grille and shuttle service to the beach. Minto Communities is one of Florida's largest developers.
"World's Happiest Country"
According to an annual report from the United Nations, Finland is the world's happiest country followed by Norway and Denmark. The analysis is based on several factors including income, trust and life expectancy. The United States slipped four spots to #18.
"LBJ's Texas Ranch For Sale"
One week after the assassination of President John F. Kennedy, new President Lyndon B. Johnson purchased an 800-acre ranch near Johnson City, Texas. Even though his main home was a 330-acre ranch on the Pedernales River in central Texas, his new ranch was intended as a getaway that would insulate him from the press and the pressures of Washington, D.C.. Johnson's former ranch has been downsized to 142 acres and is for sale at $2.8 million.
Visit TopTenRealEstateDeals.com for more historic, spectacular and celebrity homes and real estate news.