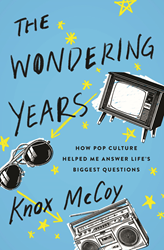 NASHVILLE, Tenn. (PRWEB) July 25, 2018
In his upcoming book, "The Wondering Years: How Pop Culture Helped Me Answer Life's Biggest Questions," popular podcaster Knox McCoy explores the idea of connecting popular culture to his own experiences. Through hilarious yet poignant stories, he reflects on how pop culture has helped shape his life and carve out the foundation of his faith. While the three cultural tentpoles—the South, the Church, and Sports—defined many aspects of his East Tennessee upbringing, it was pop culture that most definitively influenced Knox and his sense of the world at large.
Through books, television, music, and movies, Knox found many of the answers he was searching for about God and the universe and why we are all here. "The Wondering Years" is a hilarious look back at the key influences that shaped Knox's formative years and his faith, a reminder of our own encounters with pop culture that have shaped each of our formative years and continue to influence us today.
"The Wondering Years" will be available on November 13 wherever books are sold from Thomas Nelson, Inc.
For more information, visit, https://www.thomasnelson.com/the-wondering-years.
About the Author: Knox McCoy loves laughing and making people laugh. Really anything that's laughter-adjacent, he's into. He's also super into the word "swashbuckling" and his dream is to one day use it in a bio. Knox began podcasting in 2011 as a way to talk more about popular culture, and to his extreme surprise, he's still doing it every week on "The Popcast with Knox and Jamie." As a resident of the South, Knox's heritage is to enjoy football and barbecue, and he does so with great passion. He also enjoys zombie movies, police procedurals, and a good Netflix binge. Knox lives with his wife and three kids in Birmingham, Alabama where he works as a screenwriter and as the swashbuckling cofounder of The Popcast Media Group.
About Thomas Nelson, Inc.: Thomas Nelson, Inc. is a world-leading provider of Christian content and has been providing readers with quality inspirational product for more than 200 years. The publishing group provides multiple formats of award-winning Bibles, books, gift books, cookbooks, curriculum and digital content, with distribution of its products in more than 100 countries. Thomas Nelson is headquartered in Nashville, TN. For additional information, please visit http://www.thomasnelsoncorporate.com.
For reviews, excerpt and interview requests, please contact:
Brian Mayes, Nashville Publicity Group
brian(at)nashvillepublicity(dot)com
615-771-2040