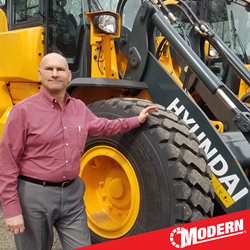 "We know the demands placed on municipalities and non-profits to get the best equipment possible while adhering to precise procurement requirements." -Rick Nelson, VP/GM, Modern Equipment & Supply
BRISTOL, PA. (PRWEB) April 17, 2018
Modern Group is proud to welcome Bob Schumody to its Equipment & Supply sales team. Bob brings over 30 years of industry experience, including an extensive focus on municipal applications and the Hyundai line of construction equipment. With immediate effect Mr. Schumody will lead Modern's growth in the non-profit and government sectors.
Backed by an outstanding service operation, Modern represents world leading manufacturers of loaders, excavators, chippers, stump grinders, boom and bucket trucks, compact dirt equipment, aerial work platforms and compressors.
"We are excited to bring an industry veteran like Bob Schumody on our team and know he is ready to hit the ground running" said Rick Nelson, VP/GM of Modern Equipment & Supply. "We know the demands placed on municipalities and non-profits to get the best equipment possible while adhering to precise procurement requirements. Bob's job is to make sure these institutions can focus on what is important with Modern supporting them every step of the way."
All customers interested in discussing upcoming equipment needs, including scheduling on-site demonstrations, can contact Bob Schumody at 201-364-1722 or Robert.Schumody [at] moderngroup.com.