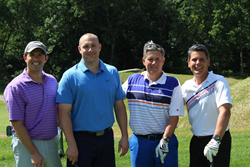 WESTCHESTER COUNTY, N.Y. (PRWEB) May 01, 2018
Hospice of Westchester (HOW) will host its 16th annual Golf Invitational at Westchester Hills Golf Club in White Plains on Tuesday, June 19. Registration will begin at 10:30 a.m., followed by brunch/lunch and a shotgun start at 12:15 p.m. Event proceeds will benefit the organization's commitment to providing compassionate end-of-life care.
The day will feature 18 holes of golf, a barbecue on the ninth hole, a cocktail reception, dinner and awards ceremony, as well as a silent auction and raffles. After widespread interest at last year's event, the 2018 Golf Invitational will again feature a women's novice golf clinic taught by Westchester Hills Golf Club Professionals. Participants can learn full swing and short game basics from 3:00-4:30 p.m. The clinic is limited to 12 participants and reservations are required. Cost to participate will also include the cocktail reception, dinner and awards ceremony.
"The Golf Invitational is one of our most anticipated events throughout the year, and we are thankful for the support we receive from the Westchester community year after year," said Mary K. Spengler, M.S., chief executive officer, HOW. "We're looking forward to another great day on the golf course!"
HOW's 2018 Golf Invitational co-chairmen include Michael K. Ciaramella, Larry Dix, William F. Flooks Jr., Max Gaujean Esq., Jack Geoghegan, Bill McLaughlin, Tim Murphy, James P. O'Toole, Stephen Paletta, Kenneth Theobalds, Michael Vitale and John Zanzarella.
Hildegarde D. Becher Foundation Inc. is the grand sponsor of the event. Other sponsors include Atlantic, Tomorrow's Office; Beecher Flooks Funeral Home Inc.; Brown, Gruttadaro, Gaujean, Prato & Sastow PLLC; Entergy; Polchinski Memorials Inc.; Sterling National Bank; Westmoreland Construction; and Zanzarella Marketing. Condor, Mt. Kisco Chevrolet-Cadillac is sponsoring the hole-in-one contest.
Individual and foursome registrations, dinner tickets and sponsorships are now available. Please contact Holly Benedict at 914-682-1484 ext. 122 for more details.
HOW combines the highest level of quality medical care with emotional and spiritual support, enabling individuals and their loved ones to make the most of each day. For more information, visit http://www.hospiceofwestchester.org.
###
About Hospice of Westchester (HOW)
Hospice of Westchester (HOW) is a private, not-for-profit healthcare agency that provides skilled, compassionate and comprehensive end-of-life home care to patients diagnosed with any serious or life-limiting illness and gives support to their families and loved ones. HOW is located at 1025 Westchester Avenue, Suite 200, White Plains, N.Y. For additional information, visit http://www.hospiceofwestchester.org or call 914-682-1484. For the latest news and updates, find HOW on Facebook.