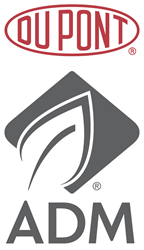 ADM's expertise in agricultural value chains and the chemistry of carbohydrates makes them the best possible business partner on this initiative. Our goal is to bring this game-changing technology to commercial scale as quickly as possible.
DECATUR, Ill. (PRWEB) April 30, 2018
DuPont Industrial Biosciences (DuPont) and Archer Daniels Midland Company (ADM) announced the opening of the world's first biobased furan dicarboxylic methyl ester (FDME) pilot production facility in Decatur, Illinois. The plant is the centerpiece of a long-standing collaboration that will help bring a greater variety of sustainably sourced biomaterials into the lives of consumers.
For more information including photos and downloadable assets, please visit biosciences.dupont.com/dupont-adm-fdme.
Nearly one-tenth of the world's oil is used to make the plastic products we use every day. From shampoo bottles to frozen food containers, fossil-fuel-based plastics are virtually impossible to avoid because of a lack of commercially available alternatives — a significant gap in the marketplace that DuPont and ADM's new biobased FDME will help address.
FDME is a molecule derived from fructose that can be used to create a variety of biobased chemicals and materials, including plastics, that are ultimately more cost-effective, efficient and sustainable than their fossil fuel-based counterparts.
"We're confident FDME is both the more sustainable option and the better-for-business option," said Michael Saltzberg, Ph.D., global business director for Biomaterials at DuPont Industrial Biosciences. "This molecule, and its numerous applications, will be high-performing, cost-effective and better for the environment. ADM's expertise in agricultural value chains and the chemistry of carbohydrates makes them the best possible business partner on this initiative. Our goal is to bring this game-changing technology to commercial scale as quickly as possible."
"Companies and consumers are of course concerned about their environmental footprint, but their bottom line will always be a key priority," said ADM Chief Technology Officer Todd Werpy. "This new, innovative product will help customers replace plastics with materials that are more environmentally friendly, better performing and cost efficient. We're pleased to work with DuPont, a leader in biomaterials, to bring this innovative new portfolio of solutions to customers around the globe, and we're excited about the future of FDME."
One of the first FDME-based polymers under development by DuPont is polytrimethylene furandicarboxyate (PTF), a novel polyester also made from DuPont's proprietary Bio-PDO™ (1,3-propanediol). PTF is a 100 percent renewable polymer that, in bottling applications, can be used to create plastic bottles that are lighter-weight, more sustainable and better performing.
Research shows that PTF has up to 10-15 times the CO2 barrier performance of traditional PET plastic, which results in a longer shelf life. With that better barrier, companies will be able to design significantly lighter-weight packages, lowering the carbon emissions and significant costs related with shipping carbonated beverages.
U.S. Congressman Rodney Davis (R-IL), attended the ribbon-cutting in Decatur, delivering remarks and touring the facility.
"Illinois has always been a hub of agricultural innovation and scientific discovery, and both DuPont and ADM have been an important part of the fabric of our local farming communities," said Congressman Davis. "This facility is a testament to the vitality and vibrancy of my district's workforce and the critical importance of manufacturing in and revitalizing our rural communities. I thank these companies for their continued commitment to the people of Illinois."
About Archer Daniels Midland Company
For more than a century, the people of Archer Daniels Midland Company have transformed crops into products that serve the vital needs of a growing world. Today, we're one of the world's largest agricultural processors and food ingredient providers, with approximately 31,000 employees serving customers in more than 170 countries. With a global value chain that includes approximately 500 crop procurement locations, 270 ingredient manufacturing facilities, 44 innovation centers and the world's premier crop transportation network, we connect the harvest to the home, making products for food, animal feed, industrial and energy uses. Learn more at http://www.adm.com.
About DuPont Industrial Biosciences
DuPont Industrial Biosciences, a business unit of DowDuPont Specialty Products Division, works with customers across a wide range of industries to make products and industrial processes more efficient and sustainable. Through a unique combination of agriculture, biotechnology, chemistry and material science capabilities, we advance market-driven, biobased solutions to meet the needs of a growing population, while protecting our environment for future generations. For updates about how DuPont Industrial Biosciences is helping customers deliver cost-effective products with superior performance and sustainability, follow @DuPontBiobased on Twitter, connect with us on LinkedIn, or visit our website at http://biosciences.dupont.com.
About DowDuPont Specialty Products Division
DowDuPont Specialty Products, a division of DowDuPont (NYSE: DWDP), is a global leader with technology-based materials, ingredients and solutions that help transform industries and everyday life. Our employees apply diverse science and expertise to help customers advance their best ideas and deliver essential innovations in key markets including electronics, transportation, building and construction, health and wellness, food and worker safety. DowDuPont intends to separate the Specialty Products Division into an independent, publicly traded company. More information can be found at http://www.dow-dupont.com.