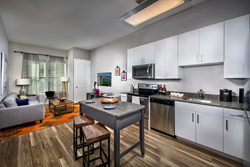 "With this recruiting campaign, we're veering from the cubicle mentality and sending the message that there is room for growth by thinking outside the box." - Elaine De Lude, Vice President of LIVEbe
ROCKVILLE, Md. (PRWEB) May 03, 2018
LIVEbe, a premier apartment developer and operator, today announced a unique recruiting campaign designed to attract motivated individuals with creative problem-solving skills who are passionate about creating connected communities.
Known for implementing methods that veer from conventional practices in the apartment industry, LIVEbe is targeting ambitious individuals unafraid to go beyond predictable solutions. The company's employees, known as LIVEbe ambassadors, will have the freedom to think creatively and not be bound by the commandments of a stringent employee manual.
"We're always seeking ways to transform conventional management practices in an industry that can be very stagnant," said Elaine De Lude, vice president of LIVEbe. "With this recruiting campaign, we're veering from the cubicle mentality and sending the message that there is room for growth by thinking outside the box. We want driven individuals who can uncover creative ways to effectively handle difficult situations."
As part of the campaign, LIVEbe is incorporating creative language into its employee-seeking materials. Rather than advertise for positions such as leasing team associate, the company is seeking unicorn wranglers, all-knowing oracles and cloud-shape creators. The colorful language is accompanied by job descriptions that question whether the potential employer can create and maintain a magical environment, accomplish the amazing by sheer strength of will and make even the most persnickety beasts happy.
The goal is to attract those who are eager for more than just a desk job for a run-of-the-mill company. Retaining residents can be a deterministic factor in an ultra-competitive apartment market, and the ability of an onsite ambassador to create solutions and resolve resident concerns can help prevent turnover.
"We've always subscribed to the philosophy that if we take care of our Ambassadors, they will take care of our residents," said Shannon Taylor, director of human resources for LIVEbe. "When you empower your associates and provide them with the freedom to be innovative, solutions are developed much more rapidly and resident satisfaction quickly follows."
LIVEbe's focus on LIVEbe Ambassadors and resident service recently resulted in a 2017 SatisFacts National Company Award for Resident Satisfaction. The three communities overseen by the company all earned individual Resident Satisfaction awards, as well, for registering an average score of above 4.0 on at least 25 surveys.
The growing LIVEbe portfolio now consists of four Maryland-based communities, including 2Hopkins (Baltimore), The Remy (Harkins District), Glen Oaks (Greenbelt) and The Bowen (Bowie). LIVEbe took over management responsibilities of The Bowen last month.
"Although our residents have been satisfied, we believe this is only the beginning," said Jennifer Rucker, vice president of operations for LIVEbe. "By hiring individuals who truly want to grow within the company and envision themselves as part of the brand, we can build customer service levels that transcend anything currently available in the industry."
About LIVEbe
Headquartered in Rockville, Md., LIVEbe was founded in 2016 and is helmed by multifamily veterans Elaine De Lude and Jennifer Rucker. LIVEbe is the multifamily division of Berman Enterprises and was established with a specific focus on fostering a sense of community by offering an unparalleled living experience for residents and employing LIVEbe Ambassadors who are forward thinking and passionate about providing exceptional customer service.
About Berman Enterprises
Berman Enterprises is a multi-generational real estate and investment company founded on the principles of honesty, integrity, hard work, hands-on management, community and philanthropy. Employing a conservative financial strategy, Berman Enterprises has experienced sustained growth since brothers Melvin J. Berman and I. Wolford Berman founded the company in 1952.
Today, the Company and its affiliates own and manage more than 9 million square feet of commercial office, retail, industrial/flex and residential properties in Maryland, Virginia, Illinois, North Carolina and Pennsylvania. The Company also owns several hundred acres of developable land representing thousands of units of residential and hundreds of thousands of square feet of commercial and retail development potential.
Media contact
Elaine De Lude
240-621-3200
edelude(at)LIVEbe.com