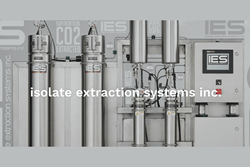 "This software ensures consistent and repeatable production schedules while eliminating the need for constant monitoring; lowering labor costs."
JUPITER, Fla. (PRWEB) May 04, 2018
Innovations with Ed Begley, Jr. will educate audiences on recent advances in extraction tools and technologies. This episode is scheduled to air Nationwide, 4th QTR, 2018. Check your local listings for more information.
In this segment, Innovations will focus on Isolate Extraction Systems Inc. (IES), an experienced company dedicated to the manufacturing of safe, high-quality, food-grade extraction tools. With a behind-the-scenes look, viewers will learn how IES develops state-of-the-art technology and procedures with the goal of producing the most advanced, safe, valuable, and reliable equipment.
IES equipment is certified in several municipalities for autonomous use, allowing for unattended overnight production.
"It's equipment that is 100-percent automated using proprietary in-house designed software," said Robert Sikich, producer for the Innovations series. "This software ensures consistent and repeatable production schedules while eliminating the need for constant monitoring; lowering labor costs."
About Isolate Extraction Systems:
IES adds value through a common goal to provide clients with the best equipment and technology for the purpose of mutual success. Internally focused on a culture that encourages positive reinvention through collaboration has given IES the edge in an ever developing and rapidly growing industry. For more information, visit: http://www.isolatesystems.com.
About Innovations and DMG Productions:
Innovations, hosted by award winning actor Ed Begley, Jr., is an information-based series geared toward educating the public on the latest breakthroughs in all areas of society. Featuring practical solutions and important issues facing consumers and professionals alike, Innovations focuses on cutting-edge advancements in everything from health and wellness to global business, renewable energy, and more.
Backed by experts in various fields, and a team dedicated to education and advancement, DMG Productions consistently produces commercial-free, educational programming on which both viewers and networks depend.
For more information visit: http://www.InnovationsTelevision.com or call (866) 496-4065.