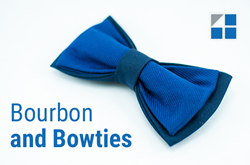 BALTIMORE (PRWEB) May 10, 2018
4th Source will attend the annual charity fundraiser, Bourbon and Bowties, on May 10, 2018, at the Baltimore Museum of Industry.
Bourbon & Bowties is QG Community Charities' fundraiser, whose proceeds will benefit local chapters of the Semper Fi Fund and the Oyster Recovery Partnership.
"We are extremely excited to work with the QG Community Charities, who have supported Baltimore's homeless and other local charities for many years," says Chris Desautelle, President and CFO of 4th Source.
Bourbon & Bowties, which is held the Thursday following the Kentucky Derby, has raised more than $200,000 in the past two years. This year, the event will feature live and silent auctions to raise additional funds.
Attendees will wear bowties during the day of the event to create awareness for these charities.
ABOUT THE OYSTER RECOVERY PARTNERSHIP
The Oyster Recovery Partnership (ORP) is a 501(c)(3) non-profit that plans, promotes and implements science-based and sustainable shellfish restoration, aquaculture, and wild fishery activities to protect the environment, support the economy and preserve cultural heritage. https://oysterrecovery.org/
ABOUT THE INJURED MARINE SEMPER FI FUND
The Injured Marine Semper Fi Fund is a 501(c)(3) nonprofit set up to provide immediate financial support for injured and critically ill members of the U.S. Armed Forces and their families. The organization directs urgently needed resources to post 9-11 service members within 24-72 hours of request. https://semperfifund.org/
ABOUT 4TH SOURCE
4th Source provides powerful, cost-effective IT services as an alternative to offshore outsourcing. Headquartered in Tampa, FL, 4th Source employs over 500 people in the US and Mexico and helps performance-driven businesses become digital strong with IT services, business process services, data services, and application development.
The hybrid nearshore-onshore model offers convenient proximity, similar time zones, efficiency gains, and significant cost savings. Inc. Magazine has recognized 4th Source as one of the fastest growing companies in the U.S. six times. http://www.4thsource.com