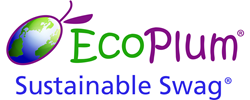 "We are very pleased to obtain a trademark for Sustainable Swag, as it represents the essence of our promotional products business with its focus on environmentally-friendly branded merchandise with an innovative twist."
NEW YORK (PRWEB) May 09, 2018
Today EcoPlum, Inc., a sustainable promotional products and e-commerce company, announced it received a registered trademark for Sustainable Swag® from the U.S. Patent and Trademark Office (USPTO). The trademark is used by EcoPlum Business Gifts, a distributor of eco friendly branded gifts and promotional products for businesses, universities, non-profits and private events.
EcoPlum Business Gifts, the Sustainable Swag division, provides unique, innovative, sustainable and high-quality promotional merchandise. EcoPlum helps clients source products to customize, or brand, with their logo or message. The Sustainable Swag line includes best-in-class merchandise emphasizing style, function, and EcoPlum's rigorous standards for environmental and social sustainability.
Gia Machlin, Founder and CEO at EcoPlum said, "We are very pleased to obtain a trademark for Sustainable Swag, as it represents the essence of our promotional products business with its focus on environmentally-friendly branded merchandise with an innovative twist."
Since 2008, EcoPlum has educated customers about environmental issues in its blog and in issue-focused seminars. The company has sourced a cross-section of eco friendly products for consumers in its online boutique and for business customers buying promotional products. EcoPlum sources its products from companies based on a transparent list of sustainability criteria.
In 2016, EcoPlum Business Gifts launched as its own division and is growing the Sustainable Swag line with a variety of products in the following categories: apparel, kitchen, office, bags, wellness, outdoors and food.
EcoPlum is a distributor member of the Promotional Products Association International (PPAI) and the Ad Specialty Institute (ASI). The company is certified nationally as a women-owned business by the Women's Business Enterprise National Council (WBENC) and is a member of the American Sustainable Business Council.
About EcoPlum
EcoPlum® is an environmentally focused business-to-business, e-commerce, and media company, including EcoPlum Business Gifts and the EcoPlum Boutique for consumers. EcoPlum Business Gifts, the Sustainable Swag® division, offers environmentally responsible promotional products for branding and customization. The EcoPlum Boutique for consumers specializes in sustainable and stylish fashion and home items in its online shop. The company produces the EcoPlum Biz Blog currently, with an emphasis on information and news for business decision-makers. The EcoPlum Green Living Blog has reported on a variety of eco lifestyle topics. EcoPlum began operating ten years ago.
The mission at EcoPlum is to inspire, inform and empower its readers, business clients, and individual customers to be conscious of their daily habits, purchases and impact on the world's limited resources. In its quest for a better world, EcoPlum hopes to help businesses and consumers make responsible choices every day. EcoPlum products are sustainable, fair trade, organic, vegan, recycled, upcycled, and/or ethically sourced meeting many criteria, including transparency of ingredients and third-party certification.
In January 2018, EcoPlum announced its national certification as a women-owned business by the Women's Business Enterprise National Council (WBENC). A trusted source for information and products since 2008, EcoPlum earned the coveted Green America Business Seal of Approval in 2011 and its highest tier Gold Approved Member status.
EcoPlum says Sustainability. Meet Style.® plus Sustainable Swag®. For more information: http://www.ecoplum.com, info(at)ecoplum(dot)com, Facebook and Twitter @ecoplum.