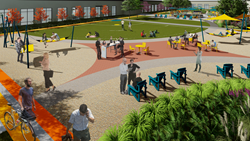 RESEARCH TRIANGLE PARK, N.C. (PRWEB) May 10, 2018
Longfellow Real Estate Partners announced today that KBI Biopharma, Inc. will join its thriving tenant roster of cutting-edge office and lab companies at the newly remodeled Venture at Imperial Center.
KBI Biopharma is a contract development and manufacturing organization driven to accelerate the development of innovative discoveries into life-changing biological products and expand global access of medicines to patients in need. The company will occupy 60,000 square feet of office and lab space in Venture.
They will join recently announced tenant, Renesas Electronics America.
The former GSK space was remodeled by Longfellow into a 142,726 sq. ft., state of the art facility along with a 75,000 sq. ft. outdoor courtyard amenity space. With new leases from Renesas Electronics America, Inc. and KBI Biopharma the property is now 69% leased.
Deb Boucher and Kathryn Lawn of Cushman & Wakefield's Science & Technology team represented KBI Biopharma while Neill Sherron represented Longfellow Real Estate Partners in the lease transaction.
"Longfellow's vertically integrated platform was pivotal in transforming Venture and providing KBI with a range of best in class services from project management to property management," says Sherron. "Longfellow understands the needs of not only Class A office users but the unique demands of life science users making us a great long-term partner for these types of local and global companies."
KBI will move into the space 4Q 2018.
Longfellow in NC
Longfellow has become the largest purveyor of Class-A office and lab space in North Carolina. Longfellow's Research Triangle-based portfolio includes:
Durham Innovation District (Durham.ID) – Total Project: 1.7 million sq. ft., 17 acres (Durham.ID's new 200 and 300 Morris buildings - 327,423 RSF)
Keystone Technology Park -- 806,157 sq. ft., 100 acres
BioPoint -- 148,828 sq. ft.
Exchange Place and Royal at Imperial Center -- 187,651 sq. ft.
Venture at Imperial Center – 142,746 sq. ft.
Research Lab at 710 W. Main St -- 51,174 sq. ft.
Carmichael Building -- 114,600 sq. ft.
4105 Hopson Rd. -- 51,350 sq. ft.
About Longfellow Real Estate Partners
Longfellow Real Estate Partners serves the unique demands of science and technology companies and focuses on creating thriving and inclusive communities in the most innovative cluster locations. The firm acquires and develops facilities in strategic locations and builds long-term relationships with research-centric organizations including life science companies, universities, medical centers and research institutes as well as the communities that surround them. The principals of Longfellow have developed more than 3.5 million square feet of laboratory and high tech space over their careers. The Company's institutional capabilities and entrepreneurial vision enable Longfellow to deliver high-quality laboratories and innovation space while satisfying each tenant's unique requirements. For more information about Longfellow, please email info(at)lfrep(dot)com.