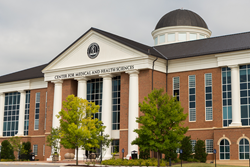 LYNCHBURG, Va. (PRWEB) May 12, 2018
Liberty University College of Osteopathic Medicine (LUCOM) has officially been approved for initial accreditation status from the American Osteopathic Association Commission on Osteopathic College Accreditation (AOA-COCA), the programmatic accreditor for Colleges of Osteopathic Medicine in the United States.
LUCOM received provisional status in August 2013, which allowed the college to recruit and accept student-doctors and provide osteopathic education.
With this new status of initial accreditation, LUCOM has been identified to meet the requirements needed prior to graduating its first class. This status confers all rights and privileges of accreditation allowing a seven-year survey cycle of self-study and comprehensive on-site evaluation.
"This endeavor was only possible through the efforts of the faculty, staff, student-doctors, executive leadership of the university, our clinical and community affiliates, our financial supporters, and our friends of the college," said Dr. Peter A. Bell, dean of LUCOM. "I am especially thankful for the untold number of hours of preparation contributed by our founding dean, Dr. Ronnie Martin, along with his wife, Sherri. This process started under their watch, under their supervision. This answer to prayer is a testament to their hard work and devotion."
LUCOM continues to maintain its mission of not only training osteopathic physicians in a Christian environment, but to prepare them for excellence in the practice of osteopathic medicine. LUCOM's mission is centered around service to others, lifelong learning, and the advancement of medical knowledge.
"We train osteopathic physicians to one day provide and expand access to quality health care locally and around the world. Our students are compassionate and dedicated to patient-centered osteopathic medical care," Bell said.
The curriculum LUCOM provides is unparalleled, offering an integrated, interdisciplinary, systems-based model with an emphasis on active learning. It is designed to emphasize biomedical and clinical interdisciplinary collaboration, guiding its student-doctors to develop a holistic, and importantly, an osteopathic approach to medicine. The faculty correlate basic scientific information with fundamental clinical application centered around a Christian worldview.
LUCOM also gives credit and appreciation to the Virginia Tobacco Commission with its $20.5 million matching grant that supported the construction of the Center for Medical and Health Sciences, as well as the state-of-the-art technology installed in the facility.
"The Commission was and continues to be instrumental in the fulfillment of our mission; it is through their early efforts in the development of our campus that LUCOM was able to take a giant leap forward," said Dr. Kevin D. Corsini, LUCOM senior associate dean of operations and external affairs.
"What LUCOM is doing is unprecedented; developing a Christian osteopathic school, without compromise, without falter, going through the legal and systematic requirements to graduate osteopathic physicians with a Christian perspective on health care and a patient-centered focus," Corsini said. "It's never been done before."
In 2013, LUCOM became the 30th osteopathic medicine school in the nation, and the second in Virginia following Edward Via College of Osteopathic Medicine. As noted in the AOA Osteopathic Medical Profession Report (2017), one in four medical students in the U.S. attends an osteopathic medical school, with enrollment increasing approximately 25 percent every five years. DOs are projected to represent more than 20 percent of practicing physicians by 2030.
LUCOM will hit another major milestone on May 19 as it celebrates the graduation of the inaugural class at Commencement. United States Secretary of Housing and Urban Development and former presidential candidate Dr. Benjamin Carson will be the keynote speaker for LUCOM's degree presentation ceremony.