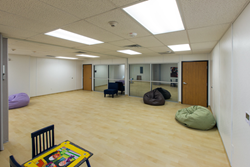 MANSFIELD, Texas (PRWEB) May 15, 2018
Design-build construction firm Ramtech Building Systems of Mansfield, Texas announced that a modular office building that the company installed at the main campus of Texas Tech University in Lubbock, Texas is now in operation. The 1,600 square foot facility will be used by the University's Department of Animal and Food Sciences for human-dog interaction research as part of a program to assess the helpfulness of therapy dogs in educational settings including children with Autism Spectrum Disorder.
Designed, manufactured, and installed by Ramtech, the facility utilized Ramtech's traditional relocatable modular building approach on a concrete pier foundation with R-Panel exterior metal siding and metal roof. The interior includes an acoustic tile lay-in ceiling and Fiberglass Reinforced Plastic resilient wall panels along with laminate wood flooring and cove base throughout the facility. The square profile building includes a large activity room that can be separated with a built-in folding partition, a combination waiting and break room, an office area with computer lab stations, and a washroom which meets BSL-2 (biosafety level 2) requirements. The entire wall between the activity room and the office area is outfitted with an observation window for private monitoring of the interactions between the patients and the therapy animals.
The Human-Animal Interaction Lab is used as part of a research program which systematically explores questions regarding companion animal well-being, behavior, and human-animal interactions. For children with ASD, researchers are looking at providing access to therapy dogs as a reward for completing tasks and to assess whether the dogs also help alleviate stress, potentially creating a more pleasant environment by offering emotional support during academic sessions. This allows the students who complete certain academic tasks to spend time with the dogs with the idea that potential interaction further motivates them to complete other tasks. The program also studies dogs to analyze what behaviors are more attractive for potential pet adopters, and in developing ways to bring those behaviors out to improve adoption rates for dogs housed in animal shelters.
About Ramtech Building Systems
Since 1982 Mansfield, Texas-based Ramtech Building Systems has been providing innovative permanent modular construction and relocatable modular buildings to educational institutions, government agencies, healthcare providers, and Fortune 500 companies throughout the Southern United States. As a design-build construction company, Ramtech offers full in-house design, a manufacturer direct product, and complete site construction services all within a single-source provider solution. By emphasizing a value engineering approach, Ramtech has successfully completed over 3,500 total projects of diverse sizes across multiple industries. Their school project portfolio includes both relocatable buildings and facilities built using traditional pier and beam permanent modular construction and the companies flagship Accelerated Building System slab-on-grade permanent modular construction. For more information, visit the company's website at RamtechModular.com.