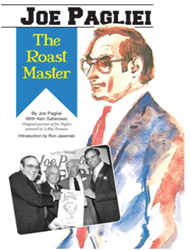 "So many of my friends and former players suggested that I write a book about all the famous people I have been fortunate enough to get to know" says Joe Pagliei of his authorial debut. "Some of these stories you wouldn't believe. With Donald Trump in the White House and the Eagles winning the Super
MT. LAUREL, N.J. (PRWEB) May 22, 2018
Philadelphia Eagle alumnus Joe Pagliei has released his debut book, titled Joe Pagliei: The Roast Master. A real-­life Zelig, Joe's story begins during the Depression Era, in a humble steel-­mining town in Western Pennsylvania where he lived under the same roof as the local neighborhood numbers runner. From that colorful beginning, Joe went on to live a life in which he was constantly a central figure among remarkable, eccentric characters, from wise-­guys to Rat Pack-­ers, and from Hall of Fame athletes to top-­billed entertainers. Now, Joe Pagliei has combined his remarkable stories with his natural-born talent for being everyone's buddy to weave a compelling, hilarious, and heart-­warming narrative that covers much of the "back nine" of the 20th century.
After a career in the early, gritty Iron Age of pro football, Joe Pagliei became one of the top casino hosts during the Golden Era of Atlantic City. In that capacity, Joe was personally recruited by Donald Trump as the first employee hired by the future president when Trump decided to get into the gaming business. While working at the casinos, Joe found himself moving with an A‑list crowd from sports and entertainment, including Sammy Davis, Jr., Rich Little, Don Rickles, Bobby Rydell, Mickey Mantle, Joe Namath, Billy Martin, Lawrence Taylor, Joe Torre, Joe Frazier, Larry Holmes, Pete Rose, Julius Irving, Willie Mays, and Tommy Lasorda, along with other NFL hall-­of-­famers, and an assorted cast of high-­roller types.
Joe is the guy who could hit the links with Willie Mays, be "coochie-­coochie-cooed" by Charo, accompany fellow Italian Joe DiMaggio to church, gloat over his esteemed parking spot next to boss Donald Trump, laugh over lunch with Rich Little, have highballs with Sammy Davis Jr., be called-­out as a "dego" and friend of Don Rickles while performing, roast "Dr. J" in honor of his sister, and at the end of the day, make the casino bean counters happy with his connections — all of which Joe recounts with his typical Jersey-­bred wit and wisdom in Joe Pagliei: The Roast Master.
"So many of my friends and former players suggested that I write a book about all the famous people I have been fortunate enough to get to know," says Joe Pagliei of his authorial debut. "Some of these stories you wouldn't believe. With Donald Trump in the White House and the Eagles winning the Super Bowl, the time was right."
"I've been roasted at celebrity banquets all over the United States. Nobody emceed a dinner like Joe Pagliei. He is the only person I know who has more stories and friends than I do," says his friend Tommy Lasorda.
Joe Pagliei: The Roast Master, is a collection of surprising stories, laugh-­out-­loud anecdotes and life wisdom from the guy they call "the Roast Master" – a sharp-­eyed witness to history, a self-­taught storyteller, and — as former NFL quarterback Ron "Jaws" Jaworski describes him — "an inscrutably honest hustler."
ABOUT THE AUTHOR
Joe Pagliei is a former Philadelphia Eagle and member of the 1960 Championship team. A first generation Italian-American immigrant, Joe's athletic talent was his ticket out of a humble steel-­mining town, giving him the opportunity to play college ball at Clemson University in 1952, then move onto a professional career in the NFL. As a member of the New York Titans during the wild inaugural American Football League season of 1960, Joe was one of the first to complete a professional football league trifecta following stays with the Philadelphia Eagles and Calgary Stamped-­ers. Joe's post-football career as a jockey agent at the New Jersey racetracks found him surrounded by backstretch characters. In the 1980's, Joe was one of the top casino hosts in Atlantic City at such high-­end venues as Harrah's and Trump Plaza. At the casinos, Joe parlayed his NFL contacts to create a remarkable career, which gave him access to A-­listers and sports and entertainment celebrities, many of whom remain his friends today. Joe Pagliei: The Roast Master is his debut book.
###
Please contact Lizanne Pagliei (lizanne(at)waxingpoetic.com or 484.410.5150) to request a copy of Joe Pagliei: The Roast Master (self-­published, 2018) or to schedule an interview with Joe Pagliei. Visit http://www.joepagliei.com for more information.