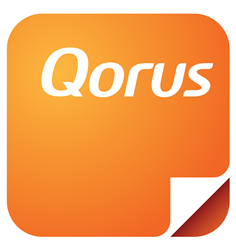 "SharePoint Revolution has been an instrumental partner for Qorus over the years. Working alongside Larry Nordlinger has been key for our legacy partner program and helping us transform it to today's MSP reseller program" says Qorus SVP of Alliances, Michelle Revsbech
(PRWEB) May 17, 2018
Qorus, the company that helps organizations be more efficient when creating business-critical documents welcomes North Carolina-based digital transformation consultancy, SharePoint Revolution, to their MSP reseller program.
SharePoint Revolution, run by Larry Nordlinger, is a 20-year-old Microsoft Partner which assists businesses to digitally transform their operations by harnessing the flexibility of the Microsoft Office 365 Platform.
"SharePoint Revolution has been an instrumental partner for Qorus over the years. Working alongside Larry Nordlinger has been key for our legacy partner program and helping us transform it to today's MSP reseller program. Like us, he's a Microsoft Partner deeply invested in helping businesses realize the power of Microsoft's productivity tools and Qorus' document automation capabilities," says Qorus SVP of Alliances, Michelle Revsbech.
A key win for SharePoint Revolution and Qorus was the conclusion of a contract with North American Roofing. The deal helped NAR boost productivity by decreasing the production time for on-site inspection reports from two hours to sixty seconds.
"I've worked alongside Qorus for years and we're excited about the direction we're going in. As an ISV, they're highly attentive and very supportive, elements that are crucial for reseller relationships to flourish," says Nordlinger.
Qorus is expanding its footprint by recruiting reseller partners with expertise in various industries in key geographies.
To learn more about the Qorus reseller program, visit: https://www.qorusdocs.com/qorus-partners
ABOUT SHAREPOINT REVOLUTION
SharePoint Revolution is a 20-year-old Microsoft Partner which helps businesses digitally transform their operations by harnessing the flexibility of the Microsoft Office 365 Platform. Run by Larry Nordlinger, SharePoint Revolution's dedication to providing transformative solutions to help businesses free up time, space and energy to do what matters most has seen SharePoint deliver results that have made his clients successful and happy.
ABOUT QORUS
Qorus helps organizations create business critical documents more efficiently and accurately. Our software is incredibly powerful but highly intuitive and very easy to use. Even the most non-technical users can quickly create accurate, personalized and compliant documents like proposals, contracts, RFPs, pitches, and reports. Qorus runs on Microsoft Azure and integrates with Microsoft Office to enhance document productivity. Our award-winning Customer Success team ensures our customers across all industries get the most value from our software.
We have offices in Seattle, London and Cape Town.
Learn more about Qorus at https://www.qorusdocs.com/