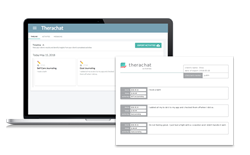 SAN FRANCISCO (PRWEB) May 18, 2018
Therachat, a digital platform that engages and connects patients with their mental health professional outside of therapy sessions, today released features to document and share patient communication and outcomes in EHR-systems.
Therachat announced they are opening up their platform for connecting with EHR-systems through allowing providers to export patient data. This includes both direct messages between patients and their provider as well as therapeutic activities patients finish in between sessions.
Exporting Therachat data and importing it into the EHR-tool allows for better tracking of patient outcomes, demonstrating adherence to the best evidence-based practices, as well as support for therapeutic decisions.
About Therachat
Therachat is a digital, HIPAA-compliant platform that aims to improve therapy outcomes . It's used by mental health professionals and their patients to augment therapy sessions by keeping therapy top of mind and improving the therapeutic alliance. Through sending personalized, therapeutic activities and messages, providers can monitor their patients, keep them on track in-between visits and get real-time insights to inform in-person sessions. Headquartered in San Francisco, Calif., Therachat is available nationwide through its web and mobile applications. For additional information, visit https://therachat.io.