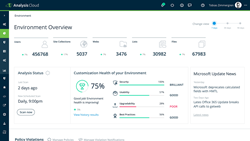 With the emergence of the cloud and today's abundance of third-party apps, services, and scripts, organizations face a very different kind of risks tailoring SharePoint Online to its users' needs. Security risks can be introduced at any time by anyone
LAS VEGAS and MUNICH (PRWEB) May 21, 2018
Rencore today released the latest version of AnalysisCloud, a major update to its SaaS SharePoint Online Governance tool. AnalysisCloud helps SharePoint Online and Office 365 admins in discovering, analyzing, and monitoring any and all changes users are making in their cloud environments. In doing so, AnalysisCloud finds potentially harmful changes allowing organizations to resolve such issues.
Microsoft SharePoint is at its best when it is tailored to the exact needs of an organization. Therefore, users have the possibility to add the functionality they need to match their requirements. In most cases, this goes beyond out-of-the-box capabilities and often involves workflows, apps and even scripts. However, this exceeds the capabilities of SharePoint Online's native security features. Extending the functionality of SharePoint Online beyond the built-in security features has the potential to expose organization's business-critical environments to significant security risks.
AnalysisCloud fills that gap by closely monitoring and tracking those extensions in functionality to make sure they do not introduce potential threats to the health and the security of SharePoint Online. AnalysisCloud helps organizations prevent a series of critical issues and threats:

Data Security Breaches
Compliance violations
Maintenance problems
AnalysisCloud helps resolve these issues by proactively monitoring all SharePoint Online environments and discovering and analyzing each and every violation of existing rules and regulations. If security risks are discovered, AnalysisCloud alerts admins so they can review and manage the issues or solve those which do not comply with the organization's policies.
Tobias Zimmergren, Microsoft MVP and Product Owner Cloud at Rencore, summarized the need for this approach:
"With the emergence of the cloud and today's abundance of third-party apps, services, and scripts, organizations face a very different kind of risks tailoring SharePoint Online to its users' needs. Security risks can be introduced at any time by anyone, and so AnalysisCloud helps organizations in ramping up and enforcing a Governance plan in order to discover these problems and eliminate them as fast as possible."
AnalysisCloud is Rencore's newest tool. It ads real-time monitoring capabilities to an already impressive lineup of pre-deployment quality and governance (SPCAF) and modernization and migration (SPTransformator) tools. Matthias Einig, Microsoft MVP, CEO and co-founder of Rencore, explained the company's portfolio strategy:
"AnalysisCloud really closes the circle for us. With SPCAF, we offer organizations the ability to develop and maintain high quality and secure code. With SPTransformator, we offer a tool to discover and modernize on-premises SharePoint customizations in order to ease the migration to the next SharePoint version and the cloud while retaining previous investments. And with AnalysisCloud, we now offer companies a tool that provides a permanent monitoring for customization security and governance in the cloud, including customizations created by end users unbeknownst to the IT organization."
To learn more about AnalysisCloud, visit Rencore at SharePoint Conference North America in Las Vegas, Nevada, this week. The team will be providing presentations of AnalysisCloud today and all week at booth #108.