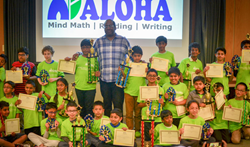 EDISON, N.J. (PRWEB) May 22, 2018
ALOHA Mind Math has awarded over $40,000 to 17 winners in their 2nd Annual National Math Challenge that ended May 12, 2018. This year's competition was open to all students grades 1-6 nationally; over 1300 students participated this spring, click for more info.
Of the 1300 students who participated in ALOHA's 2018 Math Challenge, 10% qualified for the semi-finals within each category (Pre-junior ages 6-7/grades 1-2; Junior ages 8-9/grades 3-4 and Senior ages 10-11/grades 5-6). In total there were 32 finalists including 10 Pre-junior, 10 Junior, 12 Senior (due to tie breaker) students.
The preliminary test rounds for the 2018 ALOHA National Math Challenge were held in March 2018 around the country, the semi-finals were held in April, and the finals on May 12 in Edison NJ. The challenge featured three separate age categories with 5 cash prizes in each. Each student competed within their age group across three rounds of testing. Children in this math test-based competition were tested based on their grade level using competitive math-type questions. Students were not allowed to use calculators or an abacus.
ALOHA Mind Math National Challenge Winners and Prizes:
Pre-Junior Challenge Winners (Grades 1-2, Ages 6-7)
1st Place: Arush Krisp, Dublin, OH - Cash Prize $5,000
2nd Place: Daniel Lutz, Marlboro, NJ - Cash Prize $2,000
3rd Place: Yash Jaju, Arcadia, CA - Cash Prize $1,000
4th Place: Tanush Choudhary, Schaumburg, IL - Cash Prize $750
5th Place: Sarvesh Amatya, Jupiter, FL - Cash Prize $500
Junior Challenge Winners (Grades 3-4, Ages 8-9)
1st Place: Abhinav Bhagavan, Plano, TX - Cash Prize $7,500
2nd Place: Christopher Wang, Northern, VA - Cash Prize $3,000
3rd Place: Abhi Kotari, Buffalo Grove, IL - Cash Prize $1,500
Tied 4th Place: Arav Atre, Matawan, NJ - Cash Prize $583
Tied 4th Place: Avani Anand, Marlboro, NJ - Cash Prize $583
Tied 4th Place: Sriswaroop Koundinya, Charlotte, NC - Cash Prize $583
Senior Challenge Winners (Grades 5-6, Ages 10-11)
Tied For 1st Place: Harsh Akunuri, Livingston, NJ - Cash Prize $5,484
Tied For 1st Place: Timothy Mathew, Troy, MI - Cash Prize $5,484
2nd Place: Ronak Ramesh, Manchester, CT - Cash Prize $3,636
Tied For 3rd Place: Saharsh Bejugam, Flower Mound, TX - Cash Prize $1,818
Tied For 3rd Place: Anish Dara, Fremont, CA - Cash Prize $1,818
Tied For 3rd Place: Aditya Vadakattu, Charlotte, NC - Cash Prize $1,818
How Can a Child Get Involved in ALOHA Programs?
From Summer Camp to ALOHA's year-round Mental Arithmetic/Math and English Reading | Writing after school programs, their goal is to help children excel or catch up in these skills. A new addition to ALOHA's Summer Camp opportunities for 2018 is their Novel Reading Program for grades K to 6, which includes popular and award winning novel books that improves close reading skills. Programs like this can also help to stop the summer "slide" where kids can lose skills over the summer if the skills are not used. ALOHA is also planning to launch a new common core related math program for grades 5 & 6 in the fall.
About ALOHA:
Since 2006, ALOHA Mind Math, a leading provider of Mental Arithmetic and English Reading | Writing after school programs, has been guiding children K through 6th grades in the U.S. to achieve academic excellence in these grades. ALOHA currently has 120 learning centers in 19 states across the U.S. including: AL, AR, AZ, CA, CT, FL, GA, IL, MA, MI, MO, NC, NH, NJ, NY, OH, PA, TX, VA. Other programs also include a Tiny Thinkers pre-school program for ages 3-5 and Summer Camp programs. The interactive learning process ALOHA uses enhances a child's math, reading and writing capabilities. The teachers also assist children in developing skills and abilities such as confidence, observation and listening that result in the overall growth of the child. For more details on these programs, go to ALOHAMindMath.com, search for a nearby center using ALOHA's online center locator, check the ALOHA Facebook page (Facebook.com/aloha.usa), or call 877-256-4203 to find a local center near you. Each ALOHA learning center is independently owned and operated. The ALOHA program is also in use in 20 countries worldwide.