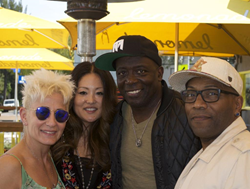 "Today, it's teamwork that makes the dream work when it comes to empowering and transforming lives," says Kevin Watson Executive Producer and Director of A New You.
CHICAGO (PRWEB) May 23, 2018
Fitness guru and Tae Bo pioneer Billy Blanks is showing support for the A New You fitness show, having recently met up with pro trainers Karen and Tony Hill to discuss the future of fitness and television. A New You is being billed as a family fitness TV show that will focus less on hype and more on sustained health, with legendary hip hop producer Marley Marl set to handle sound duties and Kevin Watson Executive Producer and Director. The show will also aim to help people make long-term behavioral changes to improve their health, concentrating on families in their own homes as opposed to taking contestants out of real-world settings.
Production on the A New You fitness show is scheduled to wrap later this year.
"Today, it's teamwork that makes the dream work when it comes to empowering and transforming lives," says Kevin Watson Executive Producer and Director of A New You. "After speaking with Billy Blanks on the phone for nearly an hour after the New You shoot, he elaborated more about the future of his legendary brand, and that's when talks of working with Tony and Karen commenced – I truly believe that these three figures will own the future of fitness on TV one day, quite literally."
According to Watson, more revenue becomes available when the world's top names in personal health, music and fitness combine forces while owning their intellectual property and concepts, and as such, pioneers like Marley Marl and legendary hip hop producer Melle Mel – rumored to be involved in season two of A New You, which is set to be music-themed – became involved with the project. Further, as concentrated advertisers and sponsor dollars go directly to A New You's production, not the network executives, Watson says more reach can be achieved by placement via syndication support.
As an alternative for shows that feature contestants paraded pageant-style back on screen for ratings, A New You has Tony and Karen Hill remaining with all the families following the episodes until they're able to get up and running with their fitness goals on their own. "We're keeping the families on track for long-term healthy lifestyles, and documenting it through the latest in technology," she adds.
Tony Hill, meanwhile, believes A New You is an historic undertaking for the television medium not only because its hosts fully comprehend the biological factors coupled with sociological and even economic elements that need to be in the solution plan, but also because the show directly documents the contributing factors that affect families' health. According to production representatives of the show, filming has begun to showcase a Chicago family selected from thousands of applicants.
"To be perfectly honest, the lack of motivating the mind and metabolism as well as poor follow-up dieting is what has made previous fitness shows fail to deliver on promises," says Tony.
As filming commences, brokers and TV networks have been creating tighter bonds with Kevin Watson, while the Hills have formed a tighter relationship with Billy Blanks, who they will be hosting at their estate in Turkey this summer.
Additional information regarding A New You will be forthcoming.