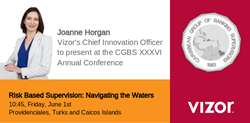 DUBLIN, Ireland (PRWEB) May 25, 2018
Vizor, the world leader in supervisory software for Financial Regulators and Central Banks, today announced that Vizor's Chief Innovation Officer, Joanne Horgan, will be a featured speaker at the XXXVI Annual CGBS Conference in Providenciales, Turks and Caicos Islands, May 31st to June 2nd, 2018.
The Caribbean Group of Banking Supervisors (CGBS) was established in 1983 under the aegis of the Caribbean Community (CARICOM) Central Bank Governors, with the specific mandate to enhance and coordinate the harmonization of the bank supervisory practices in the English speaking Caribbean, with a view to bringing them in line with internationally accepted practices. The CGBS was later expanded to include non-CARICOM territories and has been formally accepted as a regional grouping under the Basel Committee for Banking Supervision.
The annual conference brings together regulators and policy practitioners from member countries as well as representatives from the US Department of Treasury, the International Monetary Fund, US Federal Reserve Board of Governors, and the Alliance for Financial Inclusion (AFI). The theme of this year's event is "The Evolving Financial Landscape: The Supervisory Response."
Presentation: Risk-Based Supervision: Navigating the Waters
The presentation reviews the challenges banking supervisors face when implementing a risk-based supervision approach. It outlines how existing prudential data collections can be leveraged to provide accurate and timely inputs. Ms Hogan will also compare implementation approaches from different banking supervisors and the flexibility of current systems to deal with regulator specific needs. The presentation concludes with insights on the future direction of technology and systems to support risk-based supervision initiatives.
When: 10:45 AM, Friday, June 1
Where: Ports of Call Resort, Providenciales, Turks and Caicos Islands
About Joanne Horgan
Joanne Horgan has designed and delivered regulatory solutions for some of the world's top financial regulators, working with more than 20 central banks and financial regulators worldwide. Having joined Vizor in 2003, Horgan progressed through a variety of roles and was appointed to the board of directors in 2012. Between 2013 and 2017, she took on the role of chief operating officer and now leads the product management and innovation teams in Dublin.
About Vizor
Vizor Software is the global leader in enterprise supervisory solutions for Financial Regulators. We help Financial Regulators protect and enhance the stability of the financial system. Vizor is trusted by Central Banks and Financial Regulators in more than 25 countries for the collection, validation and analysis of highly complex data from financial institutions. Vizor Software is an integrated data collection and supervisory system that is based on best-in-class supervisory models but flexible enough to deal with regulator specific needs. You can learn more at vizorsoftware.com or by following Vizor on Twitter, LinkedIn, Google+.