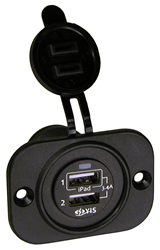 FARMINGDALE, N.Y. (PRWEB) May 26, 2018
MPD's P/N AS234A-A is an upgraded version of its AS232 with total output increased from 2.1A to 3.4A. With port #1 equivalent to AS233, AS234A-A is able to charge both the latest iPhone/iPad and a smartphone at the same time!
Enhanced water-resistant design with no assembly gap on the front face means less chances of water getting in. Raised surface also helps prevent water from getting into the USB port. The specially designed sealing PVC cap protects the chargers against even powerful water jets (when sealed). Full Compatibility with up to 2.4A charging matches latest iPad standard. Class leading 3.4A charges multiple devices at full speed and provides reliable output with EMC suppression and full short circuit/overheat protection.
Other Features

Optimized for latest iPad & iPhone - fast charging at full speed (2.4A, 3.4A)
Compatible with other smartphones
Input: DC 12-24V (Dual Voltage)
Output: DC 5V - 3.4A
LED power indication
Short circuit / overheat protection
Water-resistant cove cap (IP66 when not in use)
Flame retardant Nylon (glass fiber reinforced) enclosure
0.250" Quick Connect Terminals
Suitable for Marine applications