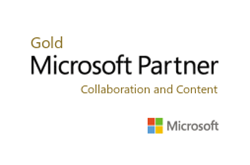 The Gold Partner status proves that we have not only the technical capabilities, but also the right people, and the right vision and strategy required to serve the market at the highest level.
Munich, Germany - European Collaboration Summit 2018, Mainz, Germany (PRWEB) May 29, 2018
Rencore announced today that it has attained Microsoft's Gold Competency rating in their Collaboration and Content competency program and consequently has become a Microsoft Gold Partner. By awarding this highest partner status, Microsoft recognizes Rencore in delivering leading SharePoint solutions that help companies share, collaborate, and improve productivity.
In order to attain Gold Competency rating in Microsoft's Collaboration and Content program, companies have to meet a number of strict requirements. These include the number of Microsoft-certified employees allocated to Microsoft's collaboration platform, as well as the scale of SharePoint user references, which usually means having customers in the top segment. Rencore has satisfied all these requirements to obtain Gold Partner status and to show that the company has committed itself to evolving Microsoft technologies for their own interests as well as the needs of its clients.
"Microsoft's award of its Gold Competency certification in Collaboration and Content shows we have the highest possible level of competency in Microsoft SharePoint," said Matthias Einig, Microsoft MVP, CEO and co-founder of Rencore. "This is a major step for us, and we consider it a great honor. It proves that we have not only the technical capabilities, but also the right people, and the right vision and strategy required to serve the market at the highest level. We will continue to work hard and innovate in order to keep delivering SharePoint solutions that help our customers excel in their collaboration strategy, be it optimizing existing workloads or managing change when migrating to the cloud."
As a Microsoft Gold Partner, Rencore - and ultimately its customers - now also benefit from continuous online technical support and an even deeper working and collaboration relationship with Microsoft.
To learn more about Rencore and its offerings, visit Rencore at European Collaboration Summit in Mainz, Germany this week. The team will be happy to answer all questions regarding our Microsoft Gold Partner Status and our products today and all week at booth #18.
About the Microsoft Collaboration and Content competency
Through its Competency Partners programme, Microsoft seeks to encourage partner companies to offer high-quality solutions in specific areas of business. Microsoft competencies were developed to meet the needs of customers, and guarantee the best possible service for existing and future customers. The Collaboration and Content competency recognize partners that develop and sell solutions for Microsoft SharePoint – on-premises or in the cloud. Companies can earn the Gold or Silver Competency.
About Rencore
Rencore is the leading provider of software protecting organizations against customization risks in Microsoft SharePoint and Office 365. Their proven suite of products detects and resolves potential security issues and compliance risks caused by custom coded solutions, third-party components, and citizen developers. Rencore's customers are able to comply with regulations more easily, optimize usage of their Microsoft SharePoint infrastructure and pass audits faster and with less effort.