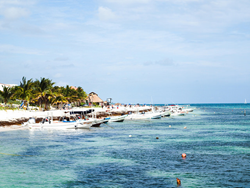 More baby boomers are redefining their retirement
BALTIMORE (PRWEB) May 30, 2018
In the U.S. today, almost nobody has saved enough to retire comfortably. But in places overseas, where the cost of living is low and the quality of life is high, even a modest nest egg stretches comfortably. And the best part is: You don't even have to move full-time to benefit.
"There are no hard and fast rules for what retirement has to look like these days," says Jennifer Stevens, International Living Executive Editor. "And by taking your retirement overseas, you open a treasure trove of possibilities. The lower cost of living in many safe, warm-weather, welcoming spots outside the U.S. means the opportunities are boundless and retirees can select just the right way to take advantage of the good-value living they find. Some pick up and move full-time. Others choose to travel for a year or two, spending less than it would cost them to stay home. Still others spend part of the year abroad."
Here are nine ways to retire better for less overseas, According to International Living's report:
#1 The Early Retiree
Because savings stretch in the right places overseas, these retirees are able to choose the ultimate dream for many North Americans and retire early.
#2 The Test Driver
You don't have to choose one place right away. These retirees try out different spots, perhaps for a month or two at a time, maybe spread out over several years, to find the one perfect for their retirement abroad.
#3 The Roving Retiree
With so many low-cost, easy-living locales to choose from, these retirees enjoy a travel-rich lifestyle with the aim of finding that ideal retirement home overseas. These retirees enjoy exploring one place at a time before moving on to the next destination on their wish-list.
#4 The Solo Traveler
Lots of safe, good-value spots overseas have built-in expat groups, which makes it easy for singles to travel comfortably, make friends, and easily become part of a community of like-minded retirees.
#5 The House Sitter
These retirees live in and look after a house while its owner is away—rent-free. It's a cost-effective way to travel all over the world.
#6 The European Explorer
Europe isn't as expensive as you probably think. These retirees enjoy all the romance, good weather, great food, art, and history the Old World has to offer...and can do it for less than it costs to stay home.
#7 The Snowbirder
You don't have to retire overseas full-time to save money and live better. These retirees choose to escape the cold and spend their winters in sunny locales—often on the beach—and spend less than they would to stay home.
#8 The Part-Timer
Two months in South America, six weeks in Europe, a fall spent in Southeast Asia...these retirees do whatever works for them, carving out a little time each year to explore someplace new or revisit a good-value place they love.
#9 The Slow Traveler
The clue is in the title—this means of travel allows you take it at your own pace. There's no rush in exploring all the world has to offer. It's an adventure. These retirees stay as long as their tourist visa will allow in any country around the world. Plus, the freedom to go where you want, whenever you like, for however long is valuable leverage in keeping costs down.
Read more about retiring overseas, nine retirees share their stories, here: The 9 Ways to Retire Overseas for Less
Editor's Note: Members of the media have permission to republish the article linked above once credit is given to Internationalliving.com
Further information, as well as interviews with expert authors for radio, TV or print, is available on request. Photos are also available.
For information about InternationalLiving.com content republishing, source material or to book an interview with one of our experts, contact PR Managing Editor, Marita Kelly, +001 667 312 3532, mkelly(at)internationalliving.com
Twitter: @inliving
Facebook: https://www.facebook.com/International.Living/
About International Living
Since 1979, Internationaliving.com has been the leading authority for anyone looking for global retirement or relocation opportunities. Through its monthly magazine and related e-letters, extensive website, podcasts, online bookstore, and events held around the world, InternationalLiving.com provides information and services to help its readers live better, travel farther, have more fun, save more money, and find better business opportunities when they expand their world beyond their own shores. InternationalLiving.com has more than 200 correspondents traveling the globe, investigating the best opportunities for travel, retirement, real estate, and investment.