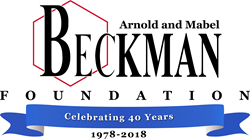 "The Foundation recognized that there was a need in the community for training opportunities focused in fundamental chemistry, and we felt that positioning our postdoctoral fellows program in this way would make a major impact." Dr. Anne Hultgren, Executive Director
IRVINE, Calif. (PRWEB) June 18, 2018
The Arnold and Mabel Beckman Foundation announced the re-launch of its postdoctoral fellowship and the opening of the program's application window. The Arnold O. Beckman Postdoctoral Fellowship in Chemical Sciences or Chemical Instrumentation supports advanced research by postdoctoral scholars within the core areas of fundamental chemistry or the development and build of chemical instrumentation. Research must be innovative in method, speed or process, or represent new instrument technology.
Intended to be a springboard from "mentored yet independent" postdocs to outstanding, independent researchers in academic or industry/governmental labs, applicants will choose from one of two Fellowship tracks:

The Postdoctoral Fellowship in Chemical Sciences allows chemists to pursue advanced research within the core areas of fundamental chemistry
The Postdoctoral Fellowship in Chemical Instrumentation allows researchers in chemistry to conceptualize, develop and build instrumentation suitable to advanced research in chemistry
Prospective applicants should review the project guidelines, eligibility requirements and application procedures online.
"The Foundation recognized that there was a need in the community for training opportunities focused in fundamental chemistry, and we felt that positioning our postdoctoral fellows program in this way would make a major impact," explained Dr. Anne Hultgren, Executive Director. "During our considerations, we also felt that providing an incentive to stimulate instrumentation development would honor the legacy of Dr. Beckman."
The Arnold and Mabel Beckman Foundation operates an online grant application system with an open call for applications. The 2019 application window is currently open and extends through Sept. 6, 2018, with awardees notified in March 2019 (tentative). The award amount is $180,000 over two years for salary, fringe benefits, and research expenditures; instrumentation fellowships receive an additional one-time amount of up to $100,000. Fellows receiving year three renewal will be provided an additional $90,000.
About the Arnold and Mabel Beckman Foundation
Located in Irvine, California, the Arnold and Mabel Beckman Foundation supports researchers and nonprofit research institutions in making the next generation of breakthroughs in chemistry and the life sciences. Founded in 1978 by 20th century scientific instrumentation pioneer Dr. Arnold O. Beckman, the Foundation supports United States institutions and young scientists whose creative, high-risk, and interdisciplinary research will lead to innovations and new tools and methods for scientific discovery. For more information, visit http://www.beckman-foundation.org/.