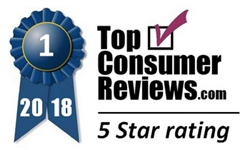 For all these reasons, we're pleased to name Wayfair as our first choice for baby cribs in 2018.
OVERLAND PARK, Kan. (PRWEB) June 21, 2018
Wayfair, a leading retailer of home goods including baby cribs, receives a best-in-class 5-star rating from TopConsumerReviews.com.
TopConsumerReviews.com recently awarded their top rating to Wayfair, an industry leader in the sale of baby cribs.
When expecting a new baby, most parents' first major purchase tends to be a baby crib. Given how many hours a typical infant sleeps each day, having the right crib is critical for a healthy, safe rest. With hundreds of baby cribs to choose from, however, moms and dads-to-be can quickly get overwhelmed by trying to find the perfect fit for their nursery. Fortunately, shopping for baby cribs online saves time, hassle, and money. This can put a much wider selection of baby cribs right at their fingertips, with no need to drive from store to store, comparing prices and availability.
"For more than 15 years, Wayfair has delivered high-quality home furnishings to people around the world," explained Brian Dolezal, of TopConsumerReviews.com, LLC. "When it comes to baby cribs, they set the standard with over 700 cribs to choose from. To help you choose from this vast selection, Wayfair provides a variety of search options such as color, price, and crib type. They also enjoy thousands of customer reviews praising their customer support. For all these reasons, we're pleased to name Wayfair as our first choice for baby cribs in 2018."
To find out more about Wayfair and other retailers of baby cribs, including reviews and comparison rankings, please visit the Baby Cribs category of TopConsumerReviews.com at https://www.topconsumerreviews.com/baby-cribs/.
About Wayfair
Wayfair offers a zillion things home. With one of the world's largest online selections of furniture, home furnishings, décor and goods, including more than ten million products from over 10,000 suppliers, Wayfair helps people find the perfect product at the right price. Our extensive selection and superior customer service coupled with the convenience of online shopping, make it easier than ever before to find exactly what you want for your home at a price you can afford.
About TopConsumerReviews.com
TopConsumerReviews.com, LLC is a leading provider of reviews and rankings for thousands of consumer products and services. From Baby Cribs to Bunk Beds and Babysitters, TopConsumerReviews.com delivers in-depth product evaluations in order to make purchasing decisions easier.