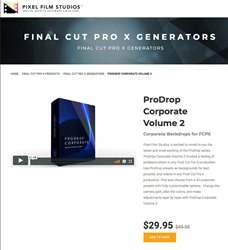 "ProDrop Corporate Volume 2 provides spectacular animated backdrops perfect for crafting the ultimate corporate-themed project in Final Cut Pro X!"
ALISO VIEJO, Calif. (PRWEB) June 22, 2018
Pixel Film Studios is excited to unveil to the latest and most exciting of the ProDrop series! ProDrop Corporate Volume 2 invokes a feeling of professionalism in any Final Cut Pro X production. Use ProDrop presets as backgrounds for text, pictures, and videos in any Final Cut Pro x production. Pick and choose from a 30 corporate presets with fully customizable options. Change the camera path, alter the colors, and make adjustments layer by layer with ProDrop Corporate Volume 2.
ProDrop Corporate Volume 2 features thirty designs inspired by business and corporations themes. Choose from backdrops with geometric shapes, to presets featuring professional lines. Each ProDrop preset features unique customization options, allowing Final Cut Pro X users to tweak the look and feel of individual backdrops.
ProDrop Corporate Volume 2 is extremely easy-to-use and navigate. Utilize Camera Controls to move freely around the environment from one point to the next. With handheld camera controls, users can add a natural camera shake to the scene. Lastly, use Depth of Field controls to adjust the blur amount.
Each ProDrop preset runs for a duration of 10 seconds. Shrink and expand the duration of the generator preset to change the duration of the clip. ProDrop is completely self-animating which allows users to achieve professional looks without the hassle of keyframes. Simply drag, drop, and tweak, ProDrop will do the rest.
Utilize professional backdrops with ProDrop Corporate FCPX exclusive designs. Look to the top-right inspector window to find neatly categorized sections with simple sliders, hue dials, and easy checkboxes to alter ProDrop presets. Achieve amazing Corporate backdrops with an incredible ease using Pixel Film Studios plugins.
Established in 2006, Aliso Viejo, California-based Pixel Film Studios is an innovative developer of visual effects tools for the post-production and broadcast community. Their products are integrated with popular non-linear editing and compositing products from Apple FCPX. Apple, the Apple logo, Mac OS X, and Macintosh are registered trademarks of Apple Inc. in the U.S. and/or other countries. All other trademarks and trade names are the property of their respective owners.