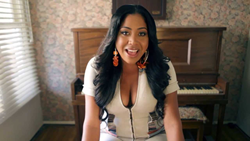 PHOENIX (PRWEB) June 19, 2018
Bonk Be.Live mobile streaming application welcomes singer Tenelle to stream live to fans
Michael Gilburd, CEO of Boink Live Streaming Corp. http://www.boinklive.com, announced today that popular singer Tenelle will be using Bonk Be.Live to keep her fans updated.
Tenelle, makes melodic, R&B-infused reggae-pop. "If my singing makes you smile, and a smile can change the world...I want to make the world smile."
Tenelle Christine Luafalemana has been described by many as "a breath of fresh air." Her natural beauty and wholesome smile permeates on stage as she captivates listeners with her soulful sultry sound. Tenelle isn't exactly sure of when her love for singing first started, but suggests that "growing up in Carson Ca, with a big family, where talent shows are more competitive than the X-Factor itself, may have well did it!" As a child, Tenelle recalls listening to artists such as Lauryn Hill, Betty Wright, and Gwen Stefani, while watching films such as the original Sparkle, dreaming of the big stage. Years later she would find herself on that stage performing her #1 hit singles "Flava" and "Get Some" in front of hundreds and thousands of people all over the world including Japan, New Zealand, Australia, the Pacific Islands, and the U.S. https://www.tenellemusic.com/home
"Our VP of Corporate Development, Sean Green, is excellent at introducing entertainers and athletes to our Bonk Be.Live app" stated Michael Gilburd, CEO. Working with Sean, his long-time colleague at American Express, Gilburd believes there will be several more entertainers and athletes who will seek to send their messages through the new version of Bonk Be.Live.
About Bonk Be.Live
Bonk Be.Live is a tool for broadcasting live-streaming videos and watching others perform. With Bonk Be.Live you can log in with a phone number, Facebook account, or Instagram account. Bonk Be.Live is the best App for Superstars, Performers and Aspiring Stars who want to keep their fans updated. Bonk Be.Live Star Broadcasters interact with fans worldwide. Professional Athletes, Singers, Dancers, Motion Picture Stars, Famous DJs, Rappers, YouTube celebrities, and Facebook top influencers, all can connect to millions of fans, while new broadcasters have fun online endeavoring to become the next Bonk Be.Live star!