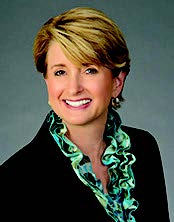 "This is a testament to the unwavering commitment to quality, service and independence at Atlanta Financial Associates and to be acknowledged with this accolade is greatly appreciated."
ATLANTA (PRWEB) June 26, 2018
Atlanta Financial Associates, an award-winning, independent financial advisory firm, today announced that Julie Andrews, MBA, CFP®, AIF®, has been named to Forbes' Top Women Wealth Advisors list for 2018. The list was published on Forbes.com.
Andrews co-founded Atlanta Financial Associates in 1992. She demonstrates her unparalleled commitment to her clients by developing sophisticated solutions that address the financial needs of highly successful physicians, professionals and individuals at or nearing retirement. Andrews consistently garners local, regional and national recognition, including the 2017 Forbes' Best-in-State Wealth Advisors list, for her service and expertise. She was named to the Forbes Top Women Wealth Advisors list in 2017 as well.
"It's an incredible honor to be recognized on this list of top women wealth advisors in the nation by Forbes," said Andrews. "This is a testament to the unwavering commitment to quality, service and independence at Atlanta Financial Associates and to be acknowledged with this accolade is greatly appreciated."
The ranking of Forbes' Top Women Wealth Advisors(1) is based on an algorithm of qualitative and quantitative criteria, including a minimum of seven years of experience, a minimum of $1 million in production, and the weighing of factors including revenue trends, assets under management, compliance records, industry experience, and best practices (gathered through telephone and in-person due-diligence interviews). SHOOK Research also employs an opinion-based weighting system that prioritizes its preferred "best practices," which include business models, activities, processes, and structure. Overall, 7,435 advisors were considered, and 250 (3.3 percent of candidates) were recognized. For the full methodology(2) that Forbes developed in partnership with SHOOK Research, please visit https://bit.ly/2JSL5TQ.
(1)This recognition and the due-diligence process conducted are not indicative of the advisor's future performance. Your experience may vary. As your specific needs and circumstances may vary, you are encouraged to conduct your own due diligence.
(2)Portfolio performance is not a criterion due to varying client objectives and lack of audited data. SHOOK does not receive a fee in exchange for rankings.
ABOUT ATLANTA FINANCIAL
Since 1992, people have been turning to the advisors at Atlanta Financial Associates to help them build a wealth management plan that reflects their vision and can stand the test of time. Our ability not only to meet this expectation, but to exceed it, is based in large part on the commitment we make to every one of our relationships. We take the time to understand your full life picture—your values and perspectives, as well as where you are now and where you want to go. Adding to this is the fact that we have access to comprehensive resources, leading technology, and innovative tools. For more information about Atlanta Financial, please visit http://www.AtlantaFinancial.com.
Atlanta Financial Associates' address is 5901-B Peachtree-Dunwoody Road, Suite 275, Atlanta, GA 30328.
Securities offered through Commonwealth Financial Network®, Member FINRA/SIPC, a Registered Investment Adviser. Advisory services offered by Atlanta Financial Associates Inc. are separate and unrelated to Commonwealth. Fixed insurance products and services offered through Atlanta Financial Associates, Inc. or CES Insurance Agency.