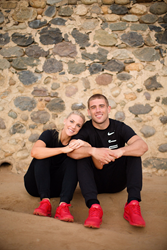 "I wouldn't be who I am today without the help I've received, and I want to help others reach their maximum potential," said Zach. "From the moment I came into the NFL, I felt I had a responsibility to start a foundation, and to be able to do it with Julie by my side is truly a blessing."
PHILADELPHIA (PRWEB) June 21, 2018
A life-changing visit to poverty-stricken Haiti moved a husband and wife in ways they never anticipated, leading them to realizing a dream of theirs to transform others' lives through faith, hope and love.
Pro Bowl tight end Zach Ertz of the Super Bowl LII-winning Philadelphia Eagles and 2017 U.S. Women's National Soccer Team Player of the Year Julie Ertz are proud to announce the launch of the Ertz Family Foundation.
Driven by their desire to improve lives of people across the world and to spread the importance of love, faith and compassion, they are excited to take this step to make a lasting impact in communities. The foundation is based on three pillars of service:

Providing opportunities through sports for youth to learn the value of exercise, nutrition, leadership, work ethic, accountability and team work
Improving the quality of education through supporting teachers, students and schools
Restoring a sense of hope and building communities for families who need it most
"This is something that we've talked about for years now, and it's exciting to be making it happen together," Julie said. "To be able to personally give people hope and the help they need has been life-changing for them and for me."
Both Zach and Julie have experienced the power of mentorship in their life and know how invaluable it can be. Their hope is to touch the lives of others and empower them to do good.
"I wouldn't be who I am today without the help I've received, and I want to help others reach their maximum potential," said Zach. "From the moment I came into the NFL, I felt I had a responsibility to start a foundation, and to be able to do it with Julie by my side is truly a blessing."
The Ertz Family Foundation strives to empower others by sharing faith, learning through sports and advancing education to build supportive communities. Initially, funds raised for the foundation will be distributed in Haiti, the Bay Area and Chicago, but will to expand to other areas.
The foundation will be hosting its launch event in July 2018. The proceeds raised will go towards building a sports complex in Haiti and to charitable efforts in the Bay Area and Philadelphia that align with the Foundation's service pillars.
About the Ertz Family Foundation
The Ertz Family Foundation is a project of Impact Philanthropy Group, a California nonprofit corporation with federal tax-exempt status as a public charity under IRS Section 501(c)(3). It works to transform lives through faith, hope and love, empowering others by sharing faith, learning through sports and advancing education to build supportive communities. For more information, visit http://www.ertzfamilyfoundation.org and follow the Ertz Family Foundation on Twitter @ErtzFoundation and Instagram @ErtzFamilyFoundation.