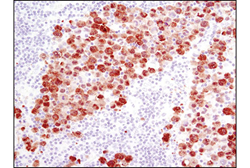 DANVERS, Mass. (PRWEB) June 22, 2018
Cell Signaling Technology (CST), a leading provider of antibodies, kits, and services announced that two of its antibody clones, ALK (D5F3®) and ROS1 (D4D6®), were featured in an article authored by the Tumor Biomarker Experts of the Chinese Society of Clinical Oncology. The article, Guidelines for diagnosis and treatment of ALK and ROS1 positive non-small cell lung cancer in China, was published in the April 8th, 2018 edition of the Chinese Journal of Pathology, and included ALK (D5F3®) and ROS1 (D4D6®) in its recommendations for use in conventional immunohistochemical (IHC) testing.
According to data from Cancer Statistics in China (2015) published by National Cancer Center, the most commonly diagnosed malignancy among patients in China was lung cancer (733,000 new cases), 80% of whom were diagnosed as having non-small lung cancer. ALK and ROS act as oncogenic fusion partners to an array of proteins and have been identified as tumor drivers in non-small cell lung carcinomas. The ALK (D5F3®) and ROS1 (D4D6®) antibody clones recognize both the normal protein and the oncogenic fusion proteins and are therefore important tools for preliminarily identifying patients that may benefit from treatment with first-line or second-line drugs that specifically inhibit the activity of the fusion proteins.
"CST's mission is to providing the world's highest quality, innovative research and diagnostic products to accelerate biological understanding and enable personalized medicine," said Michael J. Comb, Ph.D., President, and CEO of CST. "Recommended by the guideline is very important to diagnosis and treatment of non-small cell lung cancer patients," said Jay Dong, Global Vice President and Asia Pacific/ China General Manager, Cell Signaling Technology, Secretary General and Vice President of Chinese Society of Biotechnology's Professional Committee for Precision Medicine and Companion Diagnosis (in preparation). "To have our antibodies included in the national guidelines of standards for the diagnosis of such a prevalent and devastating disease represents a milestone for Cell Signaling Technology. Our purpose as a company is to support our product development efforts with innovative research and design so that they can be used to enable companion diagnostics and precision medicine to the benefit of cancer patients."