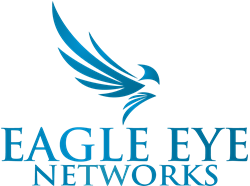 (PRWEB) June 28, 2018
Eagle Eye Networks today announced the transition of its domain name from eagleeyenetworks.com to een.com. Eagle Eye chose to make this investment to improve efficiency of communications with its partners and customers. This domain change reflects Eagle Eye's continued evolution and rapid growth as a global leader in cloud video surveillance. Eagle Eye has updated its email addresses to correspond with the new website domain.
"With the rapid growth we have experienced, Eagle Eye has reached a point in our business lifecycle where simplifying and shortening our domain makes good business sense," stated Dean Drako, CEO and founder of Eagle Eye Networks. "Eagle Eye continues to have a strong commitment to efficiency, speed, and customer service, and this change is a reflection of those principles."
For customers and resellers seeking to navigate the new een.com, here are a few frequently used links and email addresses:
Website: http://www.een.com
Blogs: http://www.een.com/blog-categories/
Support Email: support(at)een.com
Sales Email: sales(at)een.com
Eagleeyenetworks.com traffic will be automatically redirected to een.com. In addition, all emails sent to staff using @eagleeyenetworks.com will automatically be forwarded to the new @een.com email addresses.
The Eagle Eye Networks company phone numbers and customer sites/links remain unchanged.
PRESS CONTACTS
North America
Deborah Demarchi
ddemarchi(at)een.com
+1-512-473-0500
Europe
Xander van Baarsen
xvanbaarsen(at)een.com
+31 (0) 20 26 10 460
ABOUT EAGLE EYE NETWORKS
Founded in 2012, Eagle Eye Networks, Inc., is the leading global provider of cloud-based video surveillance solutions addressing the needs of businesses, alarm companies, security integrators, and individuals. Eagle Eye's 100% cloud managed solutions provides cloud and on-premise recording, bank level security and encryption, and broad analog and digital camera support – all accessed via the web or mobile applications. Businesses of all sizes and types utilize Eagle Eye solutions for operational optimization and security. All Eagle Eye products benefit from Eagle Eye's developer friendly RESTful API platform and Big Data Video Framework ™, which allow for indexing, search, retrieval, and analysis of live and archived video. Eagle Eye's open Video API has been widely adopted for integration in alarm monitoring, third party analytics, security dashboards, and point of sale system integrations.
Eagle Eye sells its products through authorized global resellers and installation partners. Headquartered in Austin, Texas, USA, Eagle Eye has offices in Europe and Asia. For more information, please visit http://www.een.com or call +1-512-473-0500 or +31 (0) 20 26 10 460.