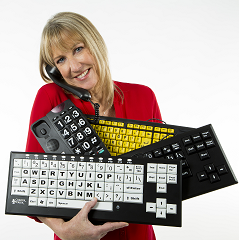 "We're proud to partner with the Lighthouse of Pinellas and offer a second West Coast Store location to help get technology solutions to those who need it."
LARGO, Fla. (PRWEB) June 29, 2018
The Florida Vision Technology Center, a leading provider of assistive technology, has opened a second Florida retail store location to better serve the blind and visually impaired community. The new store is located inside the Lighthouse of Pinellas, in Largo, Florida. The Store offers a wide variety of aids and appliances that help seniors and others who suffer from Macular Degeneration, Diabetic Retinopathy and other retina diseases live more comfortable, convenient and independent lives.
The Florida Vision Technology Center has partnered with the Lighthouse of Pinellas. Kretschmer, Founder and CEO, explains, "Having served the South Florida community for over 18 years, it was time to extend our reach to Florida's West Coast to introduce more people to the benefits of assistive technology. We're proud to partner with the Lighthouse of Pinellas and offer a second West Coast Store location to help get technology solutions to those who need it."
"We'll be showcasing some of our top products in the Lighthouse's Low Vision Expo on October 13th", Kretschmer states. "Technology has really leaped forward in this industry to bring us products that allow people to do things they couldn't imagine before". Kretschmer offers examples such as the Orcam MyEye 2.0 that reads text with the point of a finger, recognizes products, currency and even friends and family, or IrisVision, a headset that can help bring blurry details back into focus for those with low vision. All these products and more, are on display at both the Florida Vision Technology Center locations.
In addition to cutting-edge technology, the Store also carries an impressive selection of daily living aids such as LED hand-held magnifiers, big push button phones, talking alarm clocks, large button keyboards, large print calendars, and more.
The Florida Vision Technology Center is unique in that it has a hands-on consultation area where customers can try out a variety of products from several different vendors to determine the best result. Kretschmer explains, "With assistive technology, it's important for the client to be able to experiment with the product and make sure it's a good match." The Store's expert staff is on hand to help assess the specific needs of the customer and provide demonstrations to ensure the best result. For desktop video magnifier purchases, Kretschmer or one of her team members, personally delivers the unit, unboxes it, sets it up, and provides an orientation so that the customer is comfortable using it in their home. Kretschmer adds, "By providing this extra level of service to our clients, we ensure they'll get the most benefit from their new device and become more self-sufficient."
The new West Coast Pinellas County Store is conveniently located in the Lighthouse of Pinellas at 6925 112th Circle N., #103, Largo, FL 33773. (The Fort Lauderdale location is located at 2880 W. Oakland Park Boulevard, Fort Lauderdale, Florida, 33311). To connect with Florida Vision Technology, visit their Facebook page at facebook.com/FloridaVisionTechnology sign up for their newsletter, or stop by the Store. To learn more about the company and its efforts, watch this video.
About the Florida Vision Technology Center
According to the World Health Organization there are approximately 285 million people in the world who are visually impaired, of whom 39 million are blind. Lesa Kretschmer, founder and CEO, has worked in the blindness and low vision industry for more than 24 years. She is committed to placing the best adaptive technology and products available today within reach of blind and visually challenged people of all ages and walks of life.