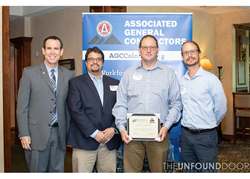 It represents AP's commitment to the safety of everyone involved in our projects. We are incredibly grateful for the recognition
LAKEWOOD, Colo. (PRWEB) June 29, 2018
At the 2018 Associated Builders and Contractors Rocky Mountain Chapter (ABCRMC) Safety Conference and Award Luncheon, Adolfson & Peterson Construction (AP) was honored for its unwavering commitment to safety by receiving an Outstanding Safety Program award, along with a Silver Level STEP award. The Outstanding Safety Program award was for the category of General Contractors with 350,000 to 750,000 labor-hours.
"Safety is more than just a set of rules for AP; it's our company's culture," said AP's Regional Safety Director, Justin Chivers. "That's why these awards are so important to us – they represent AP's commitment to the safety of everyone involved in our projects. We are incredibly grateful for the recognition."
The event celebrated collective efforts toward safety and education in the construction industry. AP's Regional Safety Director, Justin Chivers, and Safety Manager, Jeremy Hakes, attended the luncheon and accepted the awards on behalf of AP.
AP has also been proudly inducted into the Colorado Stormwater Excellence Program (CSEP) as a "Participating" member by Associated General Contractors (AGC) of Colorado.
"As a CSEP Qualified contractor, we at AP guarantee stormwater compliance by developing and executing strong stormwater management plans, maintaining our control measures (BMPs) onsite, and having commitment and buy-in at the executive level," said AP Safety Manger, Jeremy Hakes. "We focus on demonstrating our high potential for Stormwater Construction compliance, and reduced risk of negative impact to our receiving waters in Colorado."
AP joins CSEP along with 10 other companies dedicated to reestablishing proper stormwater construction compliance.
Photo Courtesy of The Unfound Door