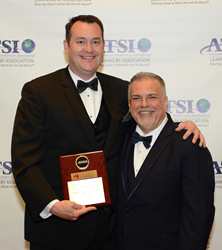 "I could not be more proud of our team for earning this year's award. Our passion is to make a positive difference for our customers and it begins with providing excellent customer service,"says, Aaron Boatin, President of Ambs Call Center
JACKSON, Mich. (PRWEB) July 01, 2018
Ambs Call Center, Inc. is proud to announce that their team has been honored with the exclusive ATSI 2018 Award of Excellence. The annual award is presented by the Association of TeleService Internal (ATSI), the Trade Association of telecommunications, call center services, and answering service across North America and the UK.
This awards marks the 15th time Ambs Call Center has been recognized by the ATSI for their dedication to excellence in service, with this award being the 8th consecutive year.
Scoring criteria for the selection of the award winning providers include:

Response Time
Courteousness of Rep
Accuracy of Call
Knowledge of Account
Overall Impression of Call
"I could not be more proud of our team for earning this year's award. Our passion is to make a positive difference for our customers and it begins with providing excellent customer service," says, Aaron Boatin, President of Ambs Call Center. "We bring our passion to the forefront of everything we do. Our services, training, and products are all carefully considered and evaluated regularly to ensure that we really deserving of this award year-after-year."
The award started 22 years ago as a means to improve the overall quality of the call center industry by setting expectations and measurements to ensure a successful call handling experience.
Now a 15-time winner, Ambs Call Center, Inc. earned the Ruby Award.
About Ambs Call Center, Inc.
Ambs Call Center was established in 1932 and has grown to become a provider of the latest telecommunications technologies to a wide range of industries throughout the nation. With locations in Jackson, MI, Grand Rapids, MI, and Tampa, FL, Ambs Call Center helps businesses become more efficient and profitable with its 24-hour call center services.