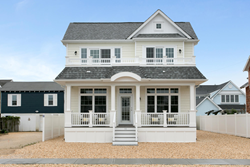 LAVALLETTE, N.J. (PRWEB) July 09, 2018
The Modular Home Builders Association's (MHBA) July 2018 Modular Home of the Month is the President Avenue. Garden State Modular Homes and Apex Homes of PA partnered together to create this custom ocean block modular home in Lavallette, New Jersey. This charming 2-story home has 5 bedrooms, three-and-a-half bathrooms in 2,500 square feet. With natural light filling this space at every turn, highlighting the kerrico granite and quartz accents throughout, this home is the vision of elegance. With a light color palette throughout the home, the master bathroom is a work of art with gray and marble tiling offset against silver and white fixtures. The floorplan of the first floor creates an open space for movement between the dining and living room area, perfect for families and for entertaining guests while the second floor features a wide balcony, perfect for enjoying the idyllic views.
About the Modular Home Builders Association:
The MHBA is the only national non-profit trade association exclusively serving the modular home industry. Each month the association selects a home from its members to highlight the advantages of modular construction. For more information on MHBA, modular homes, and the monthly contest, please visit http://www.modularhome.org.