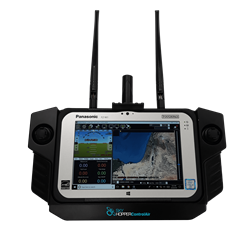 "The release of SkyHopper ControlAir extends our offering and better positions our company as a holistic end-to-end provider to the industry," stated Mobilicom's CEO Oren Elkayam.
AZUR, Israel (PRWEB) July 10, 2018
SkyHopper by Mobilicom has released its fifth product, the SkyHopper ControlAir, mobile mini-controller for drones and robotics platforms. It is built to enable controlling, transmitting and viewing of HD Video & Data. SkyHopper ControlAir is targeted within security & surveillance, mining and resources applications.
By offering a controlling terminal product, SkyHopper takes another step to become an end-to end, high-end component provider for the drones and robotics market. With this addition to the SkyHopper offering the company is now providing the following services:

Mobile controlling station with SkyHopper ControlAir
Content consumption terminal with SkyHopper VU
Video processing & analytics with SkyHopper PROV
Communication with SkyHopper PRO and SkyHopper ONE
As SkyHopper by Mobilicom services additional essential components of the drone system solution, its customers will see benefits across quality, cost and efficiency by using a single supplier to address multiple needs.
A few of SkyHopper ControlAir key features include:
Mini Controller device for various applications
Built to enable mission-critical operations
Unified, encrypted & secured device with multiple elements
• Toughpad multi-touch Tablet
• Transceiver unit
• Battery
• Power supply & Antenna
Light & compact
Extended Ruggedized grade, all-weather IP65 Dust and Water-resistant Design
Configurable Transceiver unit and joysticks & buttons
Dual RF antenna & GPS Antenna
GPS location base services
7'' Windows Tablet with Intel 6th Generation core M5 Processor
Powered by Windows 10 Professional
Daylight readable
"The release of SkyHopper ControlAir extends our offering and better positions our company as a holistic end-to-end provider to the industry," stated Mobilicom's CEO Oren Elkayam. "We are proud to release our fifth product for the drones and robotics market and already received wonderful feedback from customers who are already using it."
For additional information about the SkyHopper ControlAir, please visit our website: http://www.skyhopper.biz or contact us directly at: marketing(at)mobilicom(dot)com