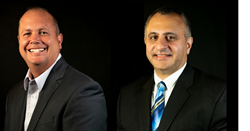 "In today's fast-moving digital world, aligning strategic IT and business objectives has never been more important," said Kim Whittaker, President of FNTS. "Marr and Thapar both have the extensive experience that compliments and strengthens the FNTS team working to help our customers achieve the IT
OMAHA, Neb. (PRWEB) July 13, 2018
First National Technology Solutions (FNTS) has welcomed two strategic leaders to its executive team. Ken Marr has joined FNTS as Chief Technology Officer and Arvind Thapar has been named Vice President of Strategy. With the growing role of technology in driving revenue, investing in the digital transformation must begin with business-driven IT strategies. Marr and Thapar will assist in developing long-term strategies to embrace the growing sophistication of technology to maximize results for customers through scalable, secure and customized managed service solutions.
"In today's fast-moving digital world, aligning strategic IT and business objectives has never been more important," said Kim Whittaker, President of FNTS. "With digital transformation now paramount to sustaining long-term success for organizations of all sizes, new and innovative approaches are needed to overcome challenges and provide competitive advantages. Marr and Thapar both have the extensive experience that complements and strengthens the FNTS team working to help our customers achieve the IT discipline, solutions and innovation needed to pave the way for success."
Marr has more than 25 years of experience with a vast amount of knowledge in IT operations, software engineering, data management and digital transformation initiatives, which include the creation of an entire technical ecosystem. As Chief Technology Officer, Marr will develop FNTS' long-term technology strategies and ensure the company stays on the cutting-edge of technology as it continues to evolve its cloud platforms and IT service offering.
As Vice President of Strategy, Thapar will assist companies in IT strategy and leveraging solutions for achieving business objectives. He is a recognized leader on hybrid and multi-cloud environments, and big data concepts and solutions. Thapar will lead strategic initiatives and focus on working with customers to give them the resources they need to strengthen their IT performance, align business goals with their architecture roadmap and improve overall business planning and execution.
About First National Technology Solutions
Headquartered in Omaha, Nebraska, First National Technology (FNTS) is a leading provider of remote managed IT services that fit the individual needs of businesses today. With more than 20 years in the managed IT services industry, FNTS specializes in cloud technology and data center services. Built on stability and fueled by innovation, FNTS partners with the world's most respected technology companies including Microsoft, IBM and Cisco. FNTS is a wholly owned subsidiary of one of the Midwest's largest privately held financial holding companies, First National of Nebraska. For more information about FNTS, follow us on LinkedIn, Facebook and Twitter or visit us at http://www.fnts.com.