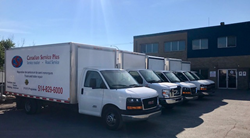 We are able to continue to support our customers with additional capacity for emergency response and maintenance as well as reinforcing our commitment to growth
MONTREAL (PRWEB) July 10, 2018
Canada's leader in professional commercial trailer rental, leasing, sales, service, parts and storage, Trailer Wizards Ltd. announced today that it has acquired Canadian Service Plus Inc (CSP). CSP is a well-respected independent trailer maintenance repair shop, recognized for their expertise, customer relationships and excellent mobile service repairs.
"When the opportunity presented itself to acquire Canadian Service Plus (CSP) it did not take long to see that this would be a great benefit for Trailer Wizards and our Montreal location," said Stephane Morin, Branch Manager.
With this acquisition, Trailer Wizards gains additional skilled and trusted service employees (1 Shop Technician, 5 Mobile Technicians), an experienced Mobile Manager, and 5 fully operational Mobile Service Vehicles which will enhance the ability to service their rental fleet in the Greater Montreal area.
"We are able to continue to support our customers with additional capacity for emergency response and maintenance as well as reinforcing our commitment to growth," said Benoit Fisette, Vice President, Eastern Canada.
About Trailer Wizards Ltd.:
Trailer Wizards Ltd. is Canada's largest and only national commercial trailer rental, leasing, sales, service, parts, and storage company. For over 50 years, Trailer Wizards Ltd. has been delivering professional commercial trailer solutions with fast, customer-friendly service while continuously driving out costs. Trailer Wizards Ltd. provides "Local Service… Nationwide." For more information, visit http://www.trailerwizards.com or follow us on LinkedIn, Facebook, and Twitter.