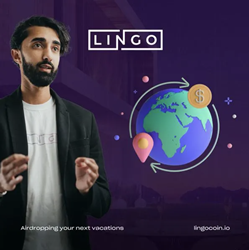 Lingo is a paradigm-changing attempt to fundamentally redefine the way people afford vacations.
PARIS (PRWEB) November 14, 2022
As blockchain adoption continues to grow at an explosive pace, estimated to reach mass adoption by one billion people by 2025, Web3 startups are in a race to develop the next big idea to transform the space and make blockchain easier and more attractive to legions of new and existing investors.
Lingo is the latest blockchain project that aims to transform the way the world thinks about and interacts with blockchain. The project's goal is to make blockchain easier to understand, improve its utility, and eliminate risk by backing its project with real-world assets—real estate.
The project is the first to blend blockchain technology and real estate acquisition. Lingo uses blockchain to acquire real estate assets around the world and then rewards its investors with vacations thanks to real estate yields. Unlike other investment opportunities or vacation companies, instead of costing consumers to go on vacation, Lingo's model sends them on vacation. It is a paradigm shift in how people could go on vacation through rewards instead of costs.
Prior to Lingo's emergence on the scene, blending real estate and blockchain proved difficult. But Lingo cracked the code by recruiting some of the most renowned names in crypto and Web3 to spearhead the project and find innovative solutions to overcome previous industry challenges. The powerhouse team includes some of LinkedIn's most trusted names who have accompanied projects like Solano and Sandbox and who have worked on critical blockchain projects for the government of Dubai. They include

Rachel Howes, former managing director of Booking.com;
Jordan Chenevier (CMO), a marketing and growth lecturer at HEC Paris;
David Amsellem, co-founder and chairman, who previously founded John Paul, which was sold for $150m USD;
Adrien Ohanaissen, founder of Renaissance NFT who assisted brands like Tag Heuer and Dom Perignon with adopting Web3; and
Jeffrey Maganis, co-founder of Crowdcreate (raised $250m+ for web3 startups).
Both Lingo's leadership team and its innovative concept are helping the project gain notoriety through celebrity backing and seed money, raking in over €3 million in seed capital. Lingo is supported by over 100 tier-one brand ambassadors and crypto experts whose online reach includes over 300 million followers, positioning Lingo as a revolutionary new avenue for blockchain with a built-in community ready to reap the benefits of Lingo's innovative vacation-for-free model.
"Imagine an ever-growing portfolio of real estate--properties around the world that are generating cash flow for one purpose only--sending people on vacation," said Hassam Moussa Rawat, CEO of Lingo Coin. "For the first time, thanks to blockchain technology, this is not only feasible, but it's the next evolution in how businesses could be engineered, aligning community with economic incentive and utility with value creation. Lingo is a paradigm-changing attempt to fundamentally redefine the way people afford vacations."
To learn more about Lingo and apply for the private sale, visit http://www.lingocoin.io.