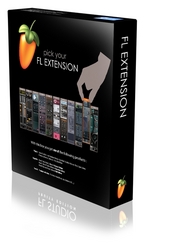 Buy the FL Extension box in-store and unlock a plugin, product or upgrade of your choice downloaded on-line.
(PRWEB) March 22, 2010
Image Line Software, leading developer of audio production software, has released the FL Extension box retail package.
CONSUMER RESEARCH: 61% of customers buying FL Studio and plugins from a retail store were aware that online purchases were available. Reasons cited for buying in a physical shop included not having a credit card and not trusting online shopping. Of the in-store shoppers, 74% said they would buy the FL Extension product if it were available. Interestingly, 54% of download customers also said they would buy the FL Extension product as it was seen as more convenient than using a family/friend's credit card or bank-wire method.
75+ PRODUCTS IN ONE BOX: Image Line offers over 75 downloadable products, including product upgrades. The FL Extension box gives retail partners the opportunity to participate in the hugely successful Image Line product portfolio and for in-store customers to buy these download products from a trusted retail establishment. The key advantage for retailers is that a single SKU allows them to sell almost any Image Line product.
BOX GRAPHICS: Based on input from retail partners, the box graphics are designed to indicate the product choices and not just a single product in the box. The box reverse-side text explains the details of the system, including how to combine several boxes to get a wider choice of download options.
HOW IT WORKS: Retailing for $99 USD each, the FL Extension box contains a code that will unlock a range of downloadable plugins, products and upgrade options for registration. After purchasing a FL Extension box, the customer goes online and chooses the product they want to download and unlock. If a customer needs to unlock higher value products, they simply purchase additional boxes in-store. For example:
Box addition -

Buy 1 box and choose from: Sakura, Sawer, Toxic Biohazard, Poizone, Gross Beat, any 3 standard sample CD's, Deckadance House Edition, upgrade FL Studio Fruity to Producer Edition, etc.
Buy 2 boxes and choose from: Maximus, Sytrus, Varazdin Orchestral sounds, upgrade FL Studio Fruity to Signature Edition, Deckadance Club Edition, FL Studio Producer Edition, etc.
MINIMUM RETURNS & MAXIMUM SATISFACTION: The FL Extension box eliminates buyer's remorse and compatibility complaints. Customers can try out any downloadable demo and test the product works on their computer. Importantly, the customer can confirm they are choosing the product that meets their needs and expectations.
When the customer is ready, they can use their FL Extension box to unlock the download from a demo to the fully working version. It's the ideal try before you buy retail product. To see the products available online visit the Image Line shop - http://shop.image-line.com.
About Image Line Software:
Established in 1994, Image Line Software provides high quality music applications to the computer-based music community and is well known for its leading digital audio workstation FL Studio (formerly FruityLoops), high quality synthesisers including Sytrus, PoiZone,Toxic Biohazard, Morphine, Ogun and Sawer, a mix of innovative Effect plugins like Maximus and Hardcore and range of sample libraries used in their multi-sampler plugins DirectWave and Soundfont Player. In May 2007 Image Line Software released its acclaimed DJ mixing software application Deckadance. In addition to its audio software, Image Line Software develops and distributes the web site building application, EZGenerator.
For more information, please contact:
Scott Fisher, Communications Manager
Image Line Software
E-mail: press (AT) image-line (dot) com
http://www.image-line.com/documents/press.php
###