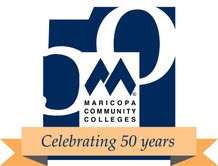 Tempe, AZ (PRWEB) March 06, 2013
At its 18th Annual All Arizona Academic Awards Luncheon, the Phi Theta Kappa organization and its partnering sponsors honored more than 75 academic all-stars from Arizona Community Colleges including 25 from the Maricopa Community Colleges.
Partner organizations include: the American Association of Community Colleges, Arizona Community Colleges, the Arizona Board of Regents and USA Today. The awards ceremony was held earlier today at the Hilton Phoenix East/Mesa.
To be eligible for the award, students must:
· Maintain a GPA of 3.5 or higher on a 4.0 scale,
· Be in good academic standing,
· Be working toward an associate's degree,
· Demonstrate leadership, and
· Interact with their community as a college ambassador.
Students selected as Academic All-Stars in their state are also eligible to be chosen as a national scholar, which includes a feature in the USA Today each spring and eligibility for additional scholarships.
###
About Maricopa Community Colleges
The Maricopa Community College system is one of the largest in the nation. We are: Chandler-Gilbert, Estrella Mountain (and SouthWest Skill Center), GateWay (and Maricopa Skill Center), Glendale, Mesa, Paradise Valley, Phoenix, Rio Salado, Scottsdale and South Mountain; the system also includes satellite campuses and business/industry, technical and customized training institutes Valley-wide.