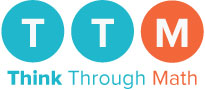 Think Through Math's powerful blend of adaptive instruction and just-in-time tutoring from live, state-certified teachers embodies the future of blended learning.
Pittsburgh, PA (PRWEB) March 07, 2013
Six months after its launch into schools in August 2012, Think Through Learning Inc. announces that its web-based program for students in grades 3 through Algebra I—Think Through Math (TTM)—has enrolled two million students in 41 states.
"This milestone demonstrates our unique position in the education market," said Kevin McAliley, CEO of Think Through Learning. "Think Through Math is in demand because it's the right program at the right time, at the right price."
With unprecedented motivational tools and adaptive high-quality instruction, TTM is changing the way students learn math. "The goal of the program," says McAliley, "is to prepare students for more rigorous mathematical standards, such as the Common Core State Standards, the TEKS, and FCAT 2.0. But the heart of the program is designed to accelerate students to grade level as efficiently as possible."
TTM uniquely integrates online learning with access to live, certified math teachers who personally differentiate instruction when students continue to struggle.
TTM is used in 41 states and is the supplemental math program of choice in many of the nation's largest districts including the District of Columbia, Hillsborough County (Tampa), Philadelphia, and Nashville. The states of Texas, Oklahoma, and Idaho provide access to the program through state-wide implementations. TTM is also widely used as an intervention system for underperforming high school students.
"District leaders tell us that Think Through Math solves one of their biggest problems–providing effective differentiated instruction," says McAliley. "Think Through Math's powerful blend of adaptive instruction and just-in-time tutoring from live, state-certified teachers embodies the future of blended learning."
About Think Through Learning Inc.
At Think Through Learning, we believe that success in mathematics transforms the way students perform in school and beyond. We are driven to motivate students in unprecedented ways. We have a vision of effective education: a powerful blend of web-based, adaptive instruction and LIVE, state-certified teachers. We champion innovation, teacher effectiveness, college and career readiness, school improvement, data-informed instruction, and cutting edge applications for virtual learning. For more information, visit http://www.thinkthroughmath.com