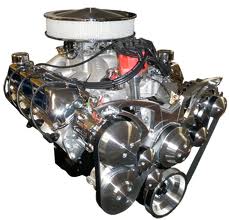 Additional inventory increases are scheduled to be rolled out during each quarter of this year.
Lexington, Kentucky (PRWEB) March 08, 2013
Ford Motor Company is known annually for its automotive sales worldwide. This company is also known for its reputation in the engine building community. The replacement crate engines sold by the CrateEnginesforSale.com company now include the 351 Windsor crate motor. This 5.8L V8 engine is now sold to vehicle owners and companies that install engines for customers. This hard to locate engine can now be purchased at a discount at http://www.crateenginesforsale.com/ford-2/351-windsor-crate-motor.
The 351 engine was part of a large family of V8 motors by Ford. The creation of this block in 1969 helped to power many of the now infamous Ford makes and models. The Mustang, LTD and Crown Victoria represent a portion of the vehicles that have used this larger engine.
The 351 cubic inches this motor provides was responsible for the horsepower ratings appreciated by users of this motor. The new edition crate motors now sold online are providing more purchasing options for owners of Ford vehicles setup to accept the 351.
Crate motors can often be found in multiple configurations. The popularity of this replacement motor type has caused retailers like eBay to create stores exclusively selling this series. New editions and rebuilt engines typically provide the options buyers search for in replacements. A slight difference in price separates these two engine types.
The CrateEnginesforSale.com company offers new and rebuilt crate series engines from most foreign and domestic automakers for sale online.
The Ford V8 inventory increases are in response to recent Dodge inventory changes. Editions like the Hemi and Mopar series motors are now in stock and available for sale. These units have received specially pricing for a limited time. The news announcement for the Dodge and Mopar upgrades can be read online at http://www.prweb.com/releases/mopar-crate-motors/crate-engines-for-sale/prweb10342586.htm. Additional inventory increases are scheduled to be rolled out during each quarter of this year.
The complete company inventory can be searched and easily sorted using the category search now online. This category system now separates engine types by automaker and size. This easy search method is helping more customers find motors faster and without company assistance.
About Crate Engines for Sale
The Crate Engines for Sale company is a leading builder and supplier of crate motors on the Internet. This company earned its business reputation selling to offline buyers for decades. The creation of the company resource center online has brought the company inventory into new markets. With discount pricing and warranty terms attached, each sale processed by this company is designed to provide extra value for buyers. The Crate Engines for Sale company now sends its customer shipments instantly after order processing is complete. This new measure has resulted in faster shipment deliveries in the United States.