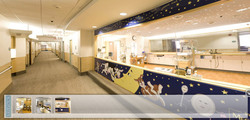 QA Graphics was very easy to work with; the design team was open to our ideas and was very efficient in completing the project.
Ankeny, IA (Vocus) July 20, 2010
QA Graphics, an interactive design company, is pleased to announce the expansion of their design services to provide 360-degree interactive virtual tours.
Virtual tours are the latest interactive solution that QA Graphics has added to their design capabilities. QA Graphics expanded their capabilities to include virtual tour development based on customer needs and the continued expansion of the creative team's skill set. Virtual tours will compliment QA Graphics' other creative services, which include website development, 3D design, professional video animations, interactive displays and other custom solutions, allowing them to provide customers with a total design solution when considering their marketing strategies.
"Expanding our capabilities to provide virtual tours was a natural progression," said Dan McCarty, president of QA Graphics. "Our creative team continues to look for innovative ways to help our customers enhance their marketing strategies and virtual tours will complement our web development and interactive marketing tools."
QA Graphics' creative team uses cutting-edge technology to build virtual tours, using professional equipment and panoramic stitching software. The company will primarily provide two different levels of virtual tours: panoramic which allows the user to view a room from side to side, and full 360-degree tours that allow the user to view the room from every angle, both side to side and top to bottom.
As an interactive virtual tour provider, QA Graphics will help their customer base provide eye-catching 3D visualizations of virtually anything. The virtual tours are user-friendly and provide an experience that allows viewers to immerse themselves and get a realistic sense of an office space, environment, or products. The interactive user interfaces can include floor plans that allow the user to navigate throughout an area, from one room to another. Hotspots can be included to provide videos, animations and additional information about the company or products. This solution can serve as a professional sales tool that can be utilized at tradeshows, in presentations, and online.
West-Side Veterinary Clinic, a recent customer of QA Graphics, is utilizing QA Graphics' website and virtual tour services as a combined marketing effort. On their new website, http://www.mywestsidevet.com, the veterinary clinic's customers can view a tour of the clinic to get a feel for the business before scheduling an appointment.
"QA Graphics was very easy to work with; the design team was open to our ideas and was very efficient in completing the project," said Amber Carlson, office manager at West-Side Veterinary Clinic. "They were able to come up with ideas we hadn't thought of. We would highly recommend them to anyone looking for help with their website or a virtual tour!"
About QA Graphics
QA Graphics is an innovative graphic development company specializing in interactive design solutions. The company provides custom solutions ranging from full-service website development, user interface design, 3D design/animation, virtual tours, multimedia solutions and other interactive content. To learn more about QA Graphics and view examples of their virtual tours, visit http://www.qagraphics.com/virtual-tour.
###