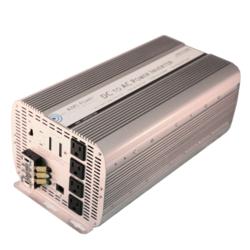 AIMS Power introduces a new 5000 watt 36 volt power inverter
Reno, NV (PRWEB) March 21, 2013
Over the last couple of years AIMS has seen an increased demand for an affordable 36 volt inverter. AIMS Power is happy to announce the addition of yet another high quality power inverter to the AIMS Power inverter family.
The new 36 volt inverter is a 5000 watt modified sine inverter. The unit has a marine coated board and a direct connect AC terminal block, which will deliver the full 5000 watts of power to your project. "Currently there are very few options on the market for 36 volt systems, we think our new 36 volt inverter will be a big hit," says Bruce De Jong, President of AIMS Power.
End users now have a more affordable option in the 36 volt power inverter market. These new inverters are already being used in many applications around the world. They will work with virtually any 36 volt battery bank, including boats and off-grid solar systems.
About AIMS Power Inc.
AIMS Power Inc., headquartered in Reno, Nevada, offers a complete line of dc to ac power inverters. AIMS Power Inc. delivers industry leading products in both pure sine wave and modified sine wave, including 12 volt inverters, 24 volt inverters, 48 volts inverters, inverter chargers and low frequency inverters. AIMS power inverters are used around the globe in many different applications including mobile businesses, off-grid power systems, emergency back-up power systems and sump pump backup systems. In addition AIMS power inverters can be used in work trucks, fleet vans, luxury motor coaches, charter buses, conversion vans, rescue and fire vehicles, RV's and boats. AIMS Power Inc. also offers solar charge controllers, KACO Blue Planet inverters and solar panels in 12 volts and 24 volts. Established in 2001, AIMS Power Inc.