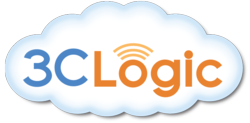 This partnership will bring the benefits of a secure and highly available cloud based contact center system to SugarCRM customers.
Rockville, MD (PRWEB) February 28, 2013
3CLogic, the leader in cloud-based contact center software hosted on Amazon Web Services (AWS), today announced the integration of its contact center software solution with SugarCRM, the market-leading customer relationship management (CRM) company that enables effective customer engagement enterprise-wide. The new integration, called 3CSugarCRM, allows for seamless integration between SugarCRM and 3CLogic's inbound, outbound, and blended contact center applications.
By leveraging this integration, joint customers will achieve:
1. a 360 degree view of all voice, chat, text, and social media interactions across the contact center within SugarCRM
2. PCI compliance by negating the need to store customer credit card information in SugarCRM or in the 3CLogic contact center platform
3. an increase in productivity of sales reps and customer service reps since there is no need to enter duplicate information on various screens and different systems
4. cost savings by integrating their phone and CRM systems
"This partnership will bring the benefits of a secure and highly available cloud based contact center system to SugarCRM customers. Off-the-shelf integration between SugarCRM and 3CLogic means customers don't have to risk the uncertainty of complex software development projects," said Ramana Reddy, Director of Client Services of 3CLogic. "They can be confident that the two systems will work together seamlessly."
"SugarCRM is committed to enabling effective customer engagement for all customers," said Lorna Heynike, Senior Vice President of Marketing for SugarCRM. "Our partnership with 3CLogic will provide customers with a 360 degree view of customer interactions across the enterprise, including call center applications. Customer facing professionals can quickly understand activity associated with each customer across channels from a single view, avoid surprises and engage proactively with their customers, and speak with a single voice across the organization."
About 3CLogic
3CLogic, headquartered in Rockville, MD, offers a full suite of cloud based inbound and outbound customer interaction channels such as voice, chat, and social media, which integrate with existing Customer Relationship Management (CRM) software. This integration provides businesses with a 360 degree view of all customer interactions regardless of the channel chosen by their customers. With 3CLogic's cloud based Contact Center, companies have more accurate and timely information about their prospect or customer and they can more efficiently respond to communications, ensure customer satisfaction with better service, and drive toward a larger lifetime value of each account, customer or client.
For more information, please call 800-350-8656. You can visit 3CLogic on the web at: http://www.3clogic.com. You can also connect with us on Twitter or Facebook.
About SugarCRM
SugarCRM democratizes customer engagement, empowering every professional who interacts with the customer to excel at their job. SugarCRM's market leading open Customer Relationship Management (CRM) platform delivers the agility, flexibility, and security required to equip each customer facing professional with the information and tools they need to effectively collaborate and engage with their customer, both within and beyond the enterprise. SugarCRM applications have been downloaded more than 11 million times and currently help over 1,000,000 end users across disciplines effectively engage their customers. More than 6,000 paid subscriber customers have chosen SugarCRM's On-Site and Cloud Computing services over proprietary alternatives. SugarCRM has been recognized for its customer success and product innovation by CRM Magazine, InfoWorld and Customer Interaction Solutions.
For more information, call (408) 454-6900 or 1 87 SUGARCRM toll-free in the US, email contact@sugarcrm.com, or visit http://www.sugarcrm.com. You can also connect with SugarCRM on Facebook, Twitter and YouTube.
Media Contacts:
David Rastatter
3CLogic
240.454.6347
drastatter@3clogic.com
Kevin Cheng
Sparkpr for SugarCRM
415.321.1879
kcheng@sugarcrm.com