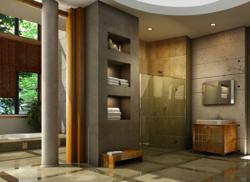 With traditional photos, we don't have the ability for do-overs or quick tweaks. 3D images give us control over the final outcome – there really is no comparison.
Tampa, FL (PRWEB) March 26, 2013
Is digital photography now considered "old school" in the world of product imaging? Increasingly, big brands like Whirlpool, Stanley Black & Decker and IKEA are ditching the camera — relying, instead, on computer-generated 3D product images to present their latest product launches.
3D images showcase products in photorealistic environments that can be changed and manipulated instantly. This means brands can feature their product in virtually any décor, location, lifestyle or setting — all without having to build a set, source product or hire a photographer.
Because 3D costs less — both in dollars and logistical headaches — it's catching on with marketers in multiple industries, from consumer products to training to home building.
Linda Garman of Basco, a manufacturer of luxury shower enclosures, explains, "With traditional photography, there was always a risk of being disappointed with the end result. Now, with 3D, if we're wrong about a color or texture, we can change it. We aren't stuck having our time and resources wasted."
Building a traditional set costs upwards of $5,000 to $20,000 and takes weeks to create. 3D set shots, on the other hand, start at around $1,000 and take just days. Eleventh-hour changes that would normally send production teams and budgets into a tailspin are simplified in the controlled 3D environment.
Garman adds, "Our 3D set shots are far more dynamic than anything we could have built in a set or in a home…and ended up costing 25% of what we would have spent on traditional photography."
But, do 3D images cut quality along with cost? Jenn-Air's Associate Marketing Manager, Marci Wark, admits she was skeptical at first, "The number one priority for our visuals is that they portray the brand as luxury and super-premium. When I saw samples, I realized that I'd be happy to have 3D set shots represent my brand."
In 2013, more online and print catalogs will feature 3D images. IKEA says it plans to double its use of 3D images to streamline the production process and keep prices down.
"Digital photos just don't make sense for every project," says Mike Lozicki, President and CEO of MediaLab, a 3D agency that's been working with brands such as Whirlpool, ClosetMaid and Stanley Black & Decker for more than seven years. "Most companies can easily replace 60% of their shots with photorealistic 3D images, reserving intensive photo sessions for key hero shots."
Many brands also choose 3D images because they can show products from virtually every angle, including cross-sectional views, exploded views and 360 degree product spinners — views that are simply impossible to capture with a camera. Lozicki states, "The lens has limits. Whereas 3D has virtually none."
Marketers at ClosetMaid agree. "We constantly need to inspire customers with new organization and storage ideas," explains Valerie Cavallaro, Director of eMarketing. "With traditional photos, we don't have the ability for do-overs or quick tweaks for new needs. But, 3D images give us control over the final outcome – there really is no comparison."
To see examples of 3D product images for KitchenAid, Whirlpool, Basco, Stanley Black & Decker and others, visit MediaLab's portfolio of 3D Product Images and 3D Set Shots.
About MediaLab 3D Solutions
For over 15 years, MediaLab 3D Solutions has been the leader in digital asset creation and interactive solutions for the consumer product and architectural design industries. MediaLab sets the standard for transitioning conceptual and production engineering drawings into stunning 3D renderings, animations, product and set shots and 360 interactive product spinners. MediaLab works with brands such as Whirlpool, Lennar, American Standard, KitchenAid, ClosetMaid, Jenn-Air, Stanley Black & Decker, Basco and more. With more than 60 full-time employees, MediaLab partners with over 60 consumer products companies and 150 residential and commercial builders worldwide. To view their portfolio and learn more, visit http://www.MediaLab3DSolutions.com.