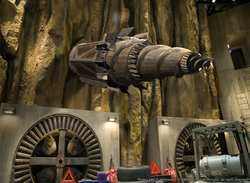 BodyPaint 3D allowed us to easily go from one seam to another with a projection brush and blend space between the creatures shells and soft skin shaders, which helped solve a lot of problems. Additionally, we took the 3D model (developed in Autodesk Maya) and painted random brush strokes directly on the bodies and then added at least three different texture variations.
Newbury Park, CA (PRWEB) November 12, 2009
Some of this year's hottest movies, including G.I. Joe: Rise of Cobra, Cloudy with a Chance of Meatballs, Surrogates and District 9, all have one thing in common – they feature spectacular CG animation and visual effects sequences created with MAXON's CINEMA 4D and BodyPaint 3D, the leading 3D animation software celebrated for its intuitive interface, powerful toolset and positive impact on productivity.
CIS Hollywood – G.I. Joe: Rise of Cobra
CIS Hollywood, part of the award-winning CIS Visual Effects Group specializing in visual effects, 3D animation and post production for feature films, television, games and commercials, was one of 10 visual effects houses that worked on Paramount Pictures' G.I. Joe: Rise of Cobra. Ben Dishart, CIS Hollywood lead texture painter, supervised a team that used MAXON's BodyPaint 3D as a core tool to provide extensive texturing for key scenes and props, including "The Pit", the G.I. Joe headquarters located in a Sahara desert underground complex; the landing platform at "The Pit" which features a giant hydraulic lift used by planes in the film to show vertical takeoffs and landings; and several vehicles including the "Mole Pod", a metal vehicle that features a composite, carbon-steel drill bit used by the evil Cobra organization to drill through the walls of the underground headquarters.
In the pivotal "Mole Pod" sequences, texture painters accurately recreated realistic dirt and grease layers on the metal surfaces and hydraulic parts. "This was a fantastic project for us because there were so many assets requiring texture painting. There was never a question about using any other 3D paint package because BodyPaint 3D is so easy to use and is the only application with the capability to paint on the overlapping geometry and across the UVs of multiple objects," said Dishart. "We imported 3D models into BodyPaint 3D for texturing, switching back and forth between Adobe Photoshop to take reference material – including the color palette and lighting – and seamlessly clone it onto the model with the goal of maintaining a coherent look between the digital assets and footage from the actual set. BodyPaint 3D was the ideal solution to simply tumble the model around and paint-in different layers to build up a dirty look on top of clean, scratched metal, as well as paint directly on the surfaces such as sharp corners, the teeth on a drill, etc."
Sony Pictures Imageworks – Cloudy with a Chance of Meatballs
Academy Award-winning visual effects studio Sony Pictures Imageworks has integrated CINEMA 4D and BodyPaint 3D into the production pipeline for the past eight years playing a central role in controlling the look and quality of such films as Monster House, Open Season, Surfs Up, Spider Man 3, Beowulf, Watchmen and others. For the recent release of Cloudy with a Chance of Meatballs the matte painting team at Sony Pictures Imageworks used MAXON software to create every exterior environment in the film including 360-degree skies, hillsides and town extensions.
Using CINEMA 4D and BodyPaint 3D the team reviewed sequences that at times had roughly 50-75 matte painting shots to evaluate color keys and placement in 3D space. The "Burger Rain" sequence, in particular, where CG burgers fall out of the sky, necessitated creating three, 360-degree sky environmental maps (env. maps) that were UV mapped within CINEMA 4D to accurately place the sequence color key for lighting and reflection purposes. Because the color of the sky changes from a grey to peach/pink/bubble gum purple to turquoise with pink clouds, often two or more maps were needed depending on the sequence. In addition, the 360-degree skies were then broken up into an array of several separate connecting camera projections using CINEMA 4D's ProjectionMan matte painting system to simplify and streamline the workflow for further development and for rendering for final shots.
"Once the env maps were approved, we further developed them as matte paintings for the entire sequence. Not only did we paint three different skies, but we also extended the FX cloud, animated them and then projected those rendered frames onto geometry that matched it to the FX Clouds in 3D space, for stereo," commented Dave Bleich, matte paint lead, Sony Pictures Imageworks. "Thankfully we had CINEMA 4D to help us get through a challenging sequence that required a lot of planning and much needed flexibility. CINEMA 4D is a 'must have' app in the matte painter's toolkit." Nori Kaneko, texture lead at Sony Pictures Imageworks on Cloudy added, "BodyPaint 3D was used throughout the film to texture every sequence, each of them equally complex, ranging from the tasty looking foods to the weathered environments. The software enhances our workflow and lets us work without limitation."
Image Engine – District 9
Vancouver-based visual effects studio Image Engine delivered 311 of the 600 visual effects shots in the sci-fi thriller District 9, including a community of entirely CG aliens that inhabit a section of Soweto, South Africa called District 9, as well as the alien mother ship, digital helicopters and digital troop carriers. The company worked in collaboration with four other Vancouver VFX houses to include Goldtooth Creative Agency, Animatrik Film Design, The Embassy and Zoic Studios, along with New Zealand's Weta Digital.
Image Engine used MAXON's BodyPaint 3D software solution to paint complex textures that blended dirt, dust, paint and stickers that cover the aliens' bodies (there were hundreds in all) giving each a distinctive, insect-inspired look that seamlessly integrated with the characters in the gritty South African ghetto setting. Anna Ivanova, a texture artist at Image Engine, noted the ease with which she could move back and forth between BodyPaint 3D and Adobe Photoshop and rework shots to accommodate the director's requests.
"Most of the aliens had seams all over their bodies, some in difficult places such as the UV's in the alien's necks," Ivanova said. "BodyPaint 3D allowed us to easily go from one seam to another with a projection brush and blend space between the creatures shells and soft skin shaders, which helped solve a lot of problems. Additionally, we took the 3D model (developed in Autodesk Maya) and painted random brush strokes directly on the bodies and then added at least three different texture variations."
James Stewart, Image Engine's creature supervisor, added that BodyPaint 3D was a necessity when it came to creating the aliens. "Besides developing custom shaders to layer the creatures' bodies with dust and dirt, each alien was adorned with different variations of paint splotches and stickers. Both the paint and the stickers were worn in an attempt to fit in with the humans around them. Eventually, we came up with a library of 20 different variations of paint splotches, splatter and stickers that could be used interchangeably on any alien saving a lot of time in the workflow process."
Lightdog Films – Surrogates
At Lightdog Films in Los Angeles, veteran VFX artist Marc Leidy operates CINEMA 4D as the 'hub' of his visual effects production pipeline. Lightdog Films was tasked to work on a key sequence in the film Surrogates, which required delicate integration of smoke and fire elements to reveal extensive damage done to two of the main robotic characters.
"CINEMA 4D was an integral tool during production and vital to successfully 'selling' the shot," said Leidy. He brought match moving data from Syntheyes and actor geometry from Image Modeler into CINEMA 4D, where he built a particle dynamics rig with the XPresso expressions editor module. Leidy also leveraged Turbulence 4D, from Jawset Visual Computing, a new fluid dynamics simulation plug-in for CINEMA 4D, to create complex photo-realistic wispy smoke that curls upwards from the damage and fills the frame.
"The speed, stability and ease-of-use that CINEMA 4D offers makes it the perfect platform to focus on both the art and science of building photo-real elements for the big screen. Access to new tools by third party developers extend CINEMA 4D's functionality in incredible ways without compromising its core quality and performance," he added. "The high level of control afforded by our 3D toolset on Surrogates allowed me to render and deliver final match-moved 2K elements to the client within a very compressed time-frame that aptly captured the emotional intent of the scene. CINEMA 4D is an indispensable asset for my visual effects production pipeline."
Film imagery available at the official Surrogates website: http://chooseyoursurrogate.com/
About MAXON Computer
MAXON Computer is a developer of professional 3D modeling, painting, animation and rendering solutions. Its award-winning CINEMA 4D and BodyPaint 3D software products have been used extensively to help create everything from stunning visual effects in top feature films, TV shows and commercials, cutting-edge game cinematics for AAA games, as well for medical illustration, architectural and industrial design applications. MAXON has offices in Germany, USA, United Kingdom, France and Japan. MAXON products are available directly from the Website and its worldwide distribution channel. Specially priced learning editions of the company's software solutions are also made available to educational institutions. For additional information on MAXON visit http://www.maxon.net.
Media Contact:
Vicky Gray-Clark
Ambient Public Relations
408-243-8880
# # #