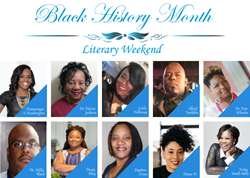 "This event just keeps getting bigger, and I am so honored that so many people have seen and supported our vision of promoting literacy in our city."
NEW ORLEANS (PRWEB) January 16, 2019
Meet the World Image Solutions' signature event, Black History Month Literary Weekend, is returning to New Orleans with 10 new local and national bestselling authors Feb. 22-23.
The event will again consist of workshops, booksignings, and their annual literary Jazz Brunch, but this year the company will present a Night of Fashion featuring African American designers from throughout the city of New Orleans.
"This event just keeps getting bigger, and I am so honored that so many people have seen and supported our vision of promoting literacy in our city," said Rhonda M. Lawson, founder and president of Meet the World Image Solutions, LLC.
The weekend will start with a visit to an area high school to discuss the art and importance of writing. This visit will be followed by a free writers' workshop at 10:30 a.m., Feb. 22 at the Algiers Regional Library, located at 3014 Holiday Dr, New Orleans, LA 70131. The workshop will include a panel discussion on writing tips and book promotion. The signature event for the Literary Weekend will be a literary jazz brunch hosted by WBOK's Oliver "OT" Thomas, and featuring New Orleans' own Jazz artist Joy Orleans at 11 a.m., Feb. 23 at Treme Market Branch, located at 800 North Claiborne Avenue, New Orleans, LA, 70116. Guest speakers will be Dr. Raenell Houston, Superintendent of New Orleans Catholic Schools, and Dr. Lisa Aubrey, author of In Search of Bimbia, and manager of the African Heritage Studies Association.
The winners of the Black History Month 8th and 9th Grade Essay Contest will also be awarded during the Jazz Brunch. Students may enter the contest by completing the application, which can be found on the Meet the World Image Solutions website. One winner will be selected from each grade to receive $100 and scholarship materials sponsored by Higher Minds of Education, LLC. SwagHer Magazine, also an event sponsor, will also publish each winner's essay on their website. The essay contest is open to students all over the New Orleans area. The deadline to enter is Feb. 8. Admission is $45 in advance, but $35 for those who purchase their tickets before Jan. 31. The price includes a gourmet meal prepared by New Orleans' Chef Wendell Randall, and a free book.
"This is an excellent opportunity for our New Orleans students to not only showcase their work, but also meet literary professionals from a variety of backgrounds," Lawson added.
The final event of the weekend will be the Black History Month Literary Weekend Night of Fashion, which will also take place at Treme Market Branch. This event is a partnership with New Orleans companies Saran Bynum's Joie Events and Kimya Norene's Fashion Collective of Couture Detour with MODSQUAD models and will feature six designers, including the Crescent City's own Alfred Tumblin and Empress Besigye's Reinments of Power, and 15 models from throughout the city of New Orleans. New Orleans R&B artist Theo Dureau will provide entertainment, Mrs. Louisiana Universal 2019 Clairica Newberry Lange will make an appearance, and the authors will also be on hand to sign their books. Tickets for this event are $20 in advance and $30 at the door.
"Our goal has always been to promote literacy while showcasing our New Orleans talent," Lawson said. "To have such a robust roster of authors, designers, and models all in the name of literacy is truly exciting. This is going to be a year we won't forget."
The participating authors for the 2019 Black History Month New Orleans Literary Weekend are:

Dr. Erin Wheeler, author of Geaux Wiser: Secrets to College Success
Alfred Tumblin, author of Recession of the Magi
Diana Riley, author of Cooking on Purpose: Life Lessons Learned from the Kitchen
Tosha Smith-Mills, author of Momma I Should Have Listened
Diana W., author of Distorted Perceptions
Dr. Willie Black, author of The PhD Game
Daphne Cross, author of Be Blessed in Your Wilderness Experience
Dr. DeLois Jackson, author of Faith: My Walking Cane to Glory
Carla Pennington, author of The Available Wife
Domonique S. Washington, author of Ever After Happily
"This year we have a perfect storm of fiction and non-fiction authors of varying genres," Lawson said. "We'll truly have something for everyone."
Additional information on the Black History Month New Orleans Literary Weekend can be found on the Meet the World Image Solutions website or by calling (504) 505-5894. Tickets for the Jazz brunch and fashion show are available on Eventbrite.
Meet the World Image Solutions, LLC is a boutique public relations firm that specializes in assisting small business, non-profit organizations, authors, and artists. It was founded Jan. 23, 2017 by author and U.S. Army veteran Rhonda M. Lawson as a vehicle to promote entrepreneurs with smaller advertising budgets. Since its founding, Meet the World has hosted four major literary events and airs Horizons With Meet the World Image Solutions, a literary talk show, on the New Orleans Talk Network each Monday at 7 pm CST.