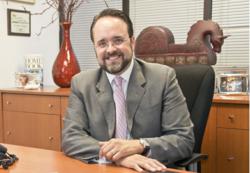 Miami, FL (PRWEB) March 28, 2013
Venezuelans are not new to South Florida, where they have established strong connections, building their own colonies, which extend from Key Biscayne and North throughout Broward, with marked preference in the cities of Miami, Doral and Weston.
Interinvestments Realty's Venezuelan associates are currently receiving a larger amount of new requests from their fellow countrymen. One of our more successful associates is Leopoldo Ortega, who specializes in selling new-construction luxury condos and just recently sold four units in 400 Sunny Isles a condominium tower in Sunny Isles Beach, FL.
This project was created with water-lovers in mind. It will span 1,032 feet of highly coveted ocean front property. It will be located near Oleta River State Park that will allow for boating and many other activities that residents enjoy on the water. The property has its private marina where residents can have their own boat slips. Besides, its aquatic activities, 400 Sunny Isles will have a sports club with volleyball and tennis courts. The condominium consists of two glass towers, each of them with twenty floors, for a total of 230 luxury units. This project is at the pre-construction stage.
"400 Sunny Isles Condo is very attractive for buyers coming from Venezuela," says Leopoldo Ortega a six year veteran with Interinvestments Realty. "Usually they use their units as a second home or as an opportunity to invest at the beginning of the new real estate market recovery. They are primarily looking for security, both, personal and financial. The climate and the proximity to Venezuela also make Miami their main destination choice."
"My clientele is 80% foreign buyers and over 60% of them are buyers coming from Venezuela. Their preference is dictated by their own objective when purchasing. Single family homes are for end-users, while townhouses and condos tend to be for investors," continues Ortega. "Very few have purchased a vacation home, but many have mentioned 'a plan-B property,' as a final safe haven due to the unpredictability of the current economy in their country of origin."
"The majority of my clients are referrals from Interinvestments Realty, or personal acquaintances as well as previous clients," adds Ortega. "Eighty percent of my sales have been cash-deals; clients looking for a 'great-deal' opportunity. South-East Florida is the first real estate market to recover in the United States. The influx of Latin American buyers, who feel comfortable with the climate, the language and the proximity to their homeland, have been the driving force in the local market recovery" explains Ortega. "The prices at every tier of Miami's luxury condo market have been soaring. It's also the quality of the product offered and the unique selling strategies used by some of the new Developers, such as, Porsche Design Tower, 400 Sunny Isles Condominium, Acqualina, etc. New projects designed by Carlos Ott, Pinafarina, Oppenheim, Architectonica and Kobi Karp have enhanced our local Architecture. The creation of high-end Hotel/Residential and Hotel/Commercial projects, like: Icon , CityCentre and the new SLS in Brickell, Costa in Hollywood, Beachwalk in Hallandale, have had a definite impact in making South Florida, one the most coveted areas in the World."
"The different financing programs currently available, the convenience of scheduled payments, and buying during the pre-construction stage in a growing market, have also added extra value in acquiring new-construction properties. The potential that Miami offers is availed by the efforts of the local governments, constantly expanding and enhancing its infrastructure; building new cultural and sports attractions, like museums, stadiums, golf and tennis complexes, will help the surrounding real estate properties appreciate in value," concludes Ortega.
If you want more information about the best new-construction projects in the area, or information on foreclosed properties, please call us at the telephone number that appears in our contact information, next to this communication.